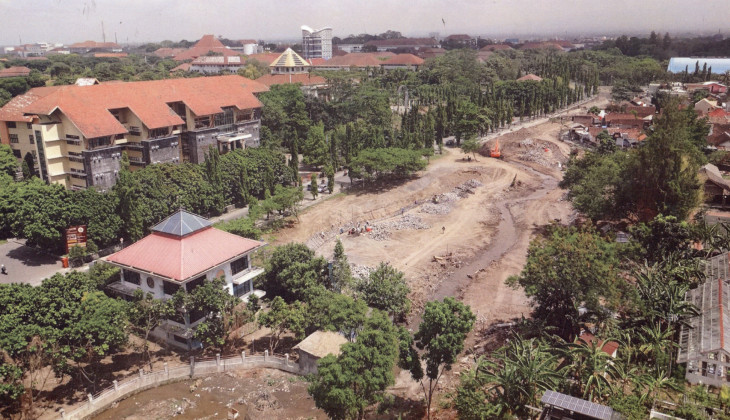 UGM continues to realise the green campus. Restructuring, development, use and maintenance of facilities and resources are made to create safe, pollution-free and environmentally friendly campus. These include the Wisdom Park, the Kinanthi student flat as well as traffic arrangement.
In doing so, UGM cooperates with partners, including Public Works Ministry. Support from partners will sustain development.
Meanwhile, internal resources are focused on the implementation of three pillars of higher learning, namely research, education, and community service.
"UGM is not only responsible for generating graduates that are competent and qualified, but also takes into consideration the interest of the wider public. The construction of the Wisdom Park is UGM's contribution to the wider public," said Rector of UGM, Prof. Dr. Pratikno, M.Soc., Sc., opening a workshop on Wisdom Park and Open Green Zone on Thursday (5/12) in UC UGM. The event is attended by participants from UGM as well as external groups. It aims at collecting input to UGM development that supports sustainable area development.
Wisdom Park will be provided with sports facilities, such as jogging track, a tunnel connecting the north and south parts, park, rainwater catchment, conservation area, fisheries area, and an arboretum. Not only UGM community but also the public will have access to the park.
"The rainwater catchment area is expected to be able to minimise flooding in several areas, such as Samirono," he said. The water will be released gradually to prevent floods while not damaging the downstream. "UGM shares the responsibility to consider the interest of the wider public," said Pratikno.
In 2014 UGM will construct drinking water facilities that is also supported by the Public Works Ministry. Some strategic spots at UGM will be assigned where drinking water can be obtained by UGM community.
"Planning is made to create the campus that is zero waste and emission. Thus, we need support and cooperation from partners in carrying out the development," he explained.
Director of Planning and Development of UGM, Muhammad Sulaiman, S.T., M.T., D.Eng., said the so-called UGM valley is a rainwater catchment area, therefore, we have to take into account the function and sustainability of that area whilst referring to the higher learning three pillars. The Wisdom Park is a conservation zone establishment.
"The re-construction of the UGM "Valley" into a retention pond to control floods in the Belik river aims to reduce the water flow in Klitren and other downstream areas," he described.
"The UGM Wisdom Park will also be used for recreation, sports, water catchment, and green zone," he added.