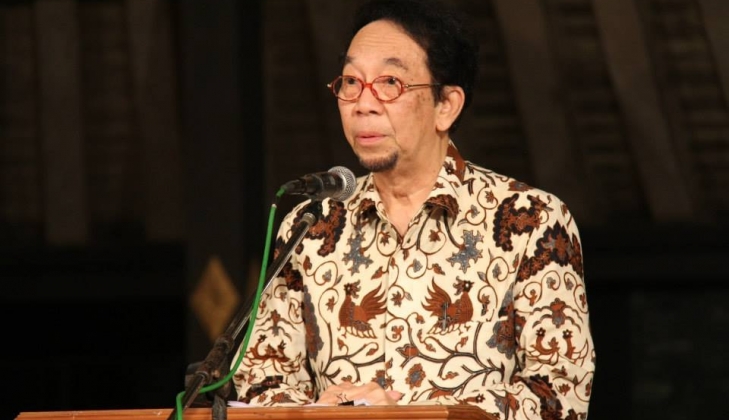 Nations that have limited natural resources may build on economic wealth by mobilising their cultural treasures, particularly their work ethics, its open nature to science, and creativity to develop technology. Technology is the product of culture. For example, Subak is an excellent irrigation system, acknowledged by the UNESCO as a world heritage.
"Sophisticated technology is produced because men run after it to fulfil their socio-economic and socio-cultural aspirations," said Prof. Dr. Sri Edi Swasono Nitidiningrat during the presentation of the HB IX Award in the series of events of UGM 64th anniversary on Thursday evening (19/12) in Srimanganti Hall of Kraton, Yogyakarta. In the gathering Sri Edi Swasono delivered his remarks entitled Togetherness and the Principles of Cultural Economy and Culture.
Technology may become a strong economic asset, technology generates capitalistic corporates, particularly funding management technology, management technology and competitive technology. Technology is a commodity that is preservable as a monopolistic secret, may become an expensive patent or Intellectual Property Right.
"The economy –if unregulated- may become the concentration of economic asset ownership of a small group of people, which leads to soci-economic gap as well as damage in national cohesion," he described.
As such, Sri Edi Swasono said, in cooperativism, to avoid dependency, gap, imbalane and other conflicts of interests, there has to be a policy for national technology. With cooperativism, the spread of technology and its derivatives can be more synergitic, fair and equitable.
Meanwhile, the other recipient of the HB IX Award, Hj. Ciptaning Utaryo, delivered her remarks entitled Humanitarian Acts on Meeting Children's Rights. Ciptaning sees that regulations in place are already good, but factually, implementations have yet to be fought for. In legal aspect, children that have to undergo legal procedures have to be treated specially, particularly during police investigation.
"On the spot, social volunteers are often challenged by complicated problems, hence they conducting advocacy," said Ciptaning.
Previously, the King of Yogyakarta Palace, Sri Sultan HB X, appreciated both Sri Edi Swasono and Ciptaning Utaryo for their dedication to society. According to the Sultan, Ciptaning Utaryo is known for her role in child care, youth and family care while Sri Edi Swasono is known for his economic views that are opposing the mainstream.
"Mrs. Ciptaning emphasises on intention, determination and audacity as a social worker while Mr. Sri Edi is known for his economic views that are a marketing paradox,"said Sri Sultan HB X.