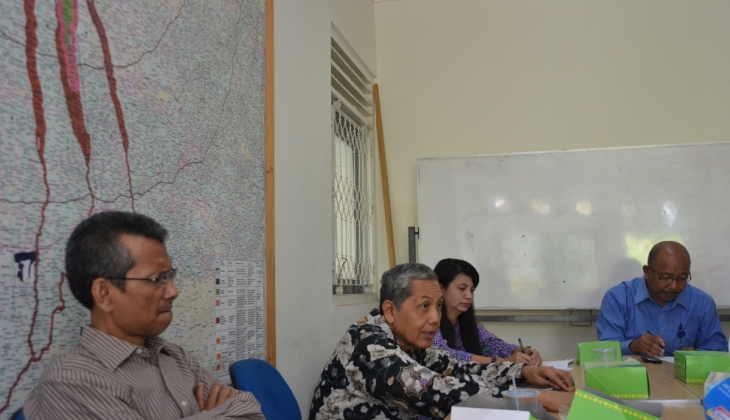 YOGYAKARTA – Universitas Gadjah Mada establishes a station to do humanitarian work for survivors of Mt. Sinabung eruptions and flooding in Kerawang - Bekasi. The UGM station is situated at the office of Disaster Early Respon Unit (DERU) UGM at Sekip N 53. Today (23/1), UGM is sending two teams to Sinabung and Kerawang Bekasi to do a mapping of the latest condition in preparation for the Student Community Service to commence in February.
Vice Rector for Research and Community Service, Prof. Dr. Suratman, M.Sc., said the establishment of the station is to help the local residents who are affected by the disasters. On Sinabung, Suratman said, UGM would specially send Student Community Service teams there. He said the disaster mitigation efforts in that area will take a long time as happened with the Mt. Merapi volcanic eruptions in Yogyakarta. "It starts with emergency period to rehab and recon periods," he explained.
Students who will be deployed there will do mentoring for education aspect as well as health, logistics, socio-economic and psychology aspects.


Suratman said the experience of DERU UGM in mitigating the Merapi eruptions can be a tool to help mitigating the Sinabung disaster. "UGM will do a mapping of disaster-prone areas for spatial development change after the Sinabung eruptions. It's our scientific duty academically," he said.
Separately, Prof. Dr. Langkah Sembiring, B.Sc., M.Sc., one of the researchers to do the mission in Sinabung, said that the situation there is increasingly worrying as the mount erupts three times a day. The visibility range is only 1-2 meters. "There are 42 shelters for Internally Displaced Persons that total over 40 thousands. They have stayed there for over four months," said the man born in Karo, North Sumatera, 54 years ago.
In spite of the zero casualties, he saw that the psychological pressure and trauma of the IDPs need to be addressed immediately. "I think a creative idea is important so that the IDPs have activities to do in the shelters such as the craft ideas taught to the IDPs around Merapi," he said.