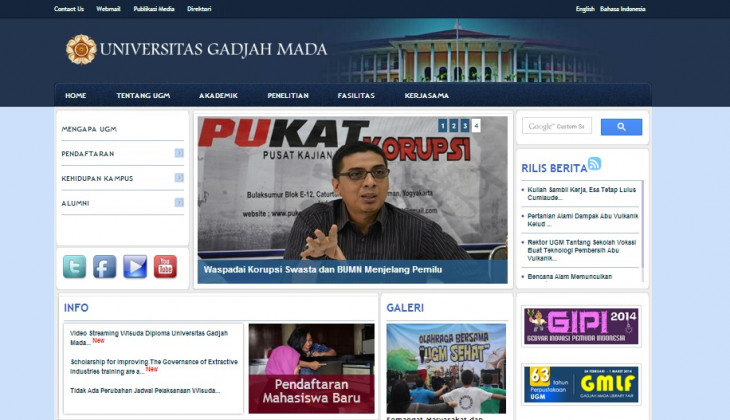 UGM ranks first in Indonesia for the Webometrics 2014 ranking. By January 2014, UGM is the first in Indonesia, 12 in South East Asia, 108 in Asia, and 598 in the world. Other Indonesian universities that follow are ITB, UI, Universitas Airlangga, and Universitas Padjadjaran.
Head of UGM Information System and Resources, Widyawan, Ph.D, said the Webometrics ranking is based on the combination of indicators that involve volume and contents of the web, visibility, and impacts of web publication.
"The ranking is announced every January and July," said Widyawan, Thursday (20/2), at UGM.
He added the ranking gives pride to UGM as well as motivation to keep advancing. Widyawan explained UGM continues to improve IT technology, for instance, the Internet capacity is increased with the bandwidth now reaching 2.1 Gbps.
"This increased by 10 times of the previous year. Access for students has been expanded with the optic fibres based local network that covers all of UGM areas with the back up route already in place," he said.
Other improvements include Information Systems Integration initiatives related to academic, research and community service, as well as human resource, finance, assets, and so on.
In terms of content quality, UGM encourages digital information. Teaching materials are uploaded in the e-learning of UGM (elisa.ugm.ac.id).
"Theses and dissertations are already in digital form and can be accessed online. A selection of international journals are subscribed by UGM Library," he said.
Furthermore, almost all units of UGM have their own websites. UGM encourages lecturers and students to have official websites. Now, over 9000 web domains are in ugm.ac.id. Lecturers and staff contents also contribute significantly. The (staf.ugm.ac.id) lecturer contents and (blog.ugm.ac.id) student contents rank 2 and 4 among the websites that are most accessed from outside UGM (source alexa.com).
"UGM continues to make improvements as in the future competition between higher learning institutions is increasing whether regionally or globally," he concluded.