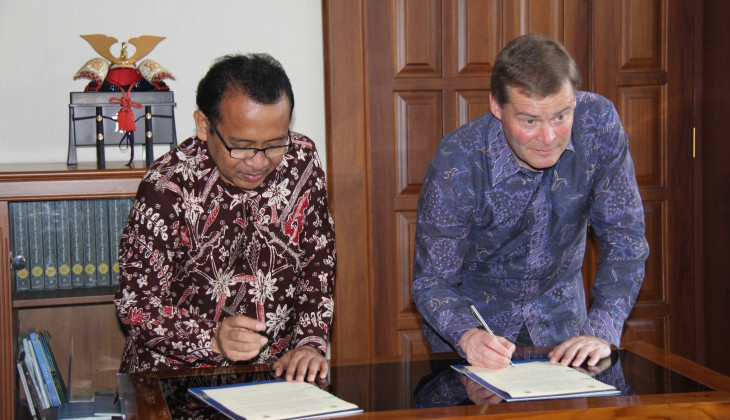 To increase education quality and research and its applications, Universitas Gadjah Mada and University of Tasmania (UTAS) have agreed to establish a cooperation. An MoU is signed on professional development, joint research, scientific projects and faculty exchange. Rector of UGM, Prof. Dr. Pratikno, M.Soc., Sc; and Vice Chancellor and President of University of Tasmania, Prof. Peter David Rathjen, signed the MoU in the Main Office of UGM on Friday (21/2), witnessed by Vice Rector for Research and Community Service, Prof. Dr. Suratman; Vice Rector of Cooperation and Alumni, Prof. Ir. Dwikorita Karnawati, M.Sc., Ph.D; Dean of Faculty of Agricultural Technology UGM, Dr. Ir. Lilik Sutiarso, M.Eng; Vice Chancellor Global Engagement of UTAS, Prof. Peter Frappell; and President of Indonesia Australia Business Council (IABC) Yogyakarta, George Iwan Marantika.
Prof. Peter David Rathjen said the cooperation was important in line with the Australian Government policy that gives attention to Asia, particularly ASEAN.
"ASEAN is the closest to us, hence it's a priority. Indonesia and UGM are our choice of partners as there have been other institutions establishing cooperations with UGM," said Peter.
Peter said the cooperation is also on research on culture and environment. "We have excellence in agriculture, fishery, creative industry and tourism, also renewable energy. We can explore on these for further cooperations," he added.
UGM Rector welcomed the delegates from University of Tasmania. He hoped the cooperation would strengthen the cooperation network already in place.
With the refreshed Colombo Plan, said the Rector, there will be many Australian students coming to Indonesia. This can increase non-degree as well as double degree programmes. "They can have double degree programme here, like what has been done with Melbourne University and Flinders University for undergraduate programme," he said.