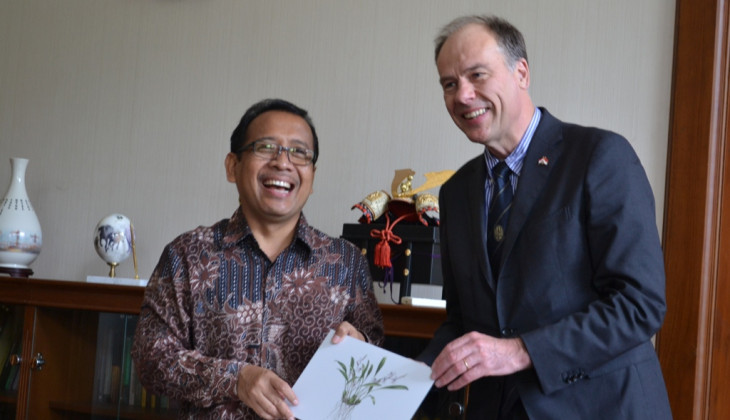 YOGYAKARTA – University of Leiden is interested in incorporating the Student Community Service – Community Empowerment Learning (KKN-PPM) into their curriculum. Thus was said by Rector of University of Leiden, Prof. Carel Stolker, after meeting with Rector of UGM, Prof. Dr. Pratikno, M.Soc.,Sc., during his visit to UGM on Thursday (27/2).
It is known that the KKN-PPM programme is a compulsory subject that has to be undergone by all students of UGM. For two months they apply their field of knowledge among society as well as to instill the sense of humanity, social awareness while exploring the local community's knowledge.
Pratikno reiterated, UGM and Leiden will initiate joint double degree programme in humanities, medicine, and forestry. "The ones currently ongoing are joint research and joint supervision. In the future we will develop student mobility between the two countries," he said.
Pratikno expected the cooperation between UGM and Leiden will give an addition to the education at Leiden, particularly on Indonesian studies. University of Leiden is strong in Indonesian studies, supported by Koninklijk Instituut voor Taal Land-en Volkenkunde (KTLV). "Indonesian studies at Leiden has become a place of learning for students from all over the world. UGM would like to also become part of their education by incorporating UGM perspective in the Dutch learning," said Pratikno.

The delegates from Leiden consisted of Dean of Humanities Faculty, Prof. Wim van den Doel; contemporary Indonesian studies expert, Prof David Henley; antropologist Prof. Gerard Persson and Dr. Bart Berendregt; senior advisor for international affairs, Dr. Eric Beerkens; PA of Rector, Ans Kluit; Head of International Affairs Office, Lilian Visscher; and a representative from Leiden's Faculty of Law, Marrik Bellen.