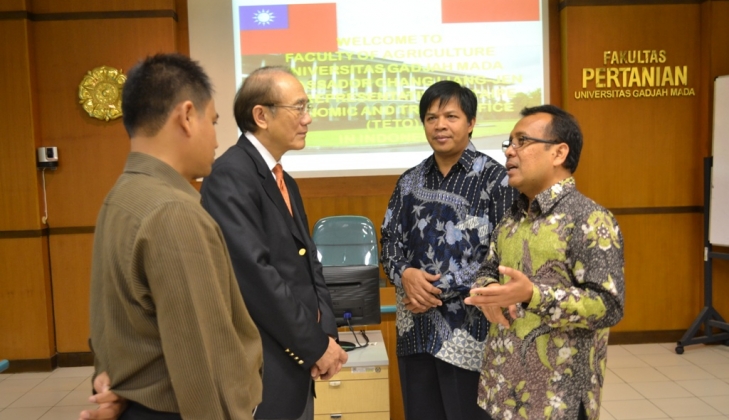 YOGYAKARTA – Faculty of Agriculture UGM in cooperation with Taiwan are ready to cultivate the sandy areas around Mt. Merapi. The agriculture based community empowerment programme is aimed at farmers who were affected by the Merapi eruptions back in 2010 to reinvigorate the agricultural sector that had been damaged by sand and volcanic ash. "We will start with economic recovery," said Dean of Faculty of Agriculture, Dr. Jamhari, S.P., M.P., after receving the visit made by a representative from Taiwan Economic and Trade Office for Indonesia, Chang Liang Jen, in the Faculty on Tuesday (4/3).

Merapi has been selected as the economy is not improving there whilst the eruption had taken place some three years ago. According to Jamhari, the land that is covered by sand has made the farmers unwilling to cultivate the land. The Faculty of Agriculture will develop sand agricultural cultivation by growing horticulture. "We have established a team to develop horticulture commodities in Merapi, also cattle," he said.
Jamhari said the Faculty has the experience in developing such agriculture as they had initiated it since the 80s on the coastal area in the south. "Now, we want to encourage the Merapi area, also Klaten and Magelang," he said.
Chang Liang Jen said Taiwan would support the programme by cooperating with two Taiwanese universities, National Taiwan University and National Pingtung University. "Both are excellent in agriculture," he explained.
Rector of UGM, Pratikno, welcomed the cooperation. He said Indonesia required a great amount of food stocks, particularly rice. He explained UGM has initiated programmes with local governments, such as those of Ngawi and Bojonegoro, to plant gogo rice in teakwood plantation areas to increase food supply and improve the prosperity of the local people.