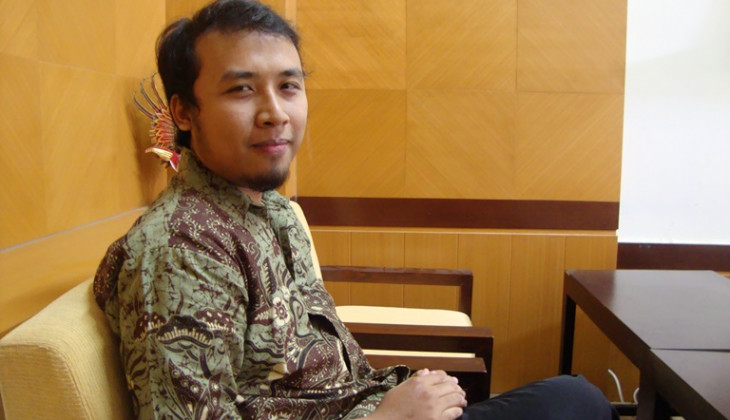 The best of men is those who benefit others. This principle is strongly believed by Aulia Ari Adhha, student of Electronics and Instrumentation, Faculty of Mathematics and Natural Sciences. The class of 2009 student implements the principle by giving back funds worth 10 millions to his juniors through the UGM Student Affairs Directorate.
Aulia Ari Addha, second of three siblings who was born on 22 June 1991 in Pekalongan Central Java, does not come from a wealthy family. His father set up his own business while his mother became a teacher. This did not , however, prevent Addha from doing good to others.
Addha's experience when obtaining scholarships for three times in a row in 2009, 2010, and 2011 had triggered him to donate some of his scholarship funds to other students.
"Some of the money is from my scholarship funds while the rest is the money is coming from those I received after I won some competitions and some teaching jobs. I hope these will benefit other junior students," he said.
Now focusing on his thesis, Addha is busy in the Study Club Communication (SCCF) at UGM as well as teaching at Digilab-Robotic School.
UGM Student Affairs Director, Dr. Senawi, MP., appreciated his donation, hoping that this would set a good example.
"We hope this will be beneficial to other students and set a good example to others. Even lecturers may not make a good deed like Addha," said Senawi.
The funds from Aulia Ari Addha is then given to three students that need them; they are: Ilham Azmil Putra (Faculty of Philosophy), Julia Dian Pratiwi (Vocational School) and Ines Wartiningsih (Faculty of Cultural Sciences).
Ilham Azmil Putra, representing the three students, was proud of Addha. Ilham hoped to be able to follow suit.
"This would motivate other students or those who have graduated to do the same as Addha," he said.