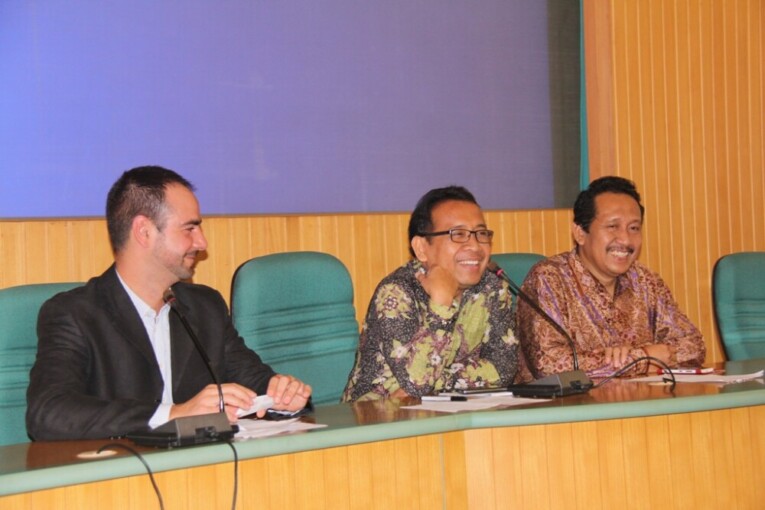 Agriculture students of UGM have become the second winner in the national scientific writing competition Road to Scientific Paper and Seminar 2014 (MARSS), taking place on 27 April at Universitas Negeri Yogyakarta. As many as 80 teams participated in the competition.
Those UGM students are Rivandi Pranandita Putra, Agustinus Wahyu Krisnanta, and Latiful Muttaqin. They innovate the bio-briquette made from sugar cane waste and water hyacinth (Eichhornia crassipes) as renewable energy resources.
Rivandi, UGM team chairman, said presently sugar cane waste has not much been used by the local people and is seen as pollutant instead.
In fact, in one kilogram of sugar cane waste there is 2.5 percent of water containing 1,825 kcal. The value can be increased by mixing it with other biomass resource, such as water hyacinth.
"Taking into account the extensive lands allocated for sugar cane plantation as well as the sugar self-procurement campaign trumpeted in the country, the sugar cane waste offers new potential for energy development here," he said on Monday (28/4) in Faculty of Agriculture UGM.
The bio-briquettes can be used not only for household and industry purposes but also power generator to reduce dependency on fossil fuel.
"We hope in the future the bio-briquettes can reduce our dependency on fossil fuel whilst realising the energy dependent country," said Rivandi.