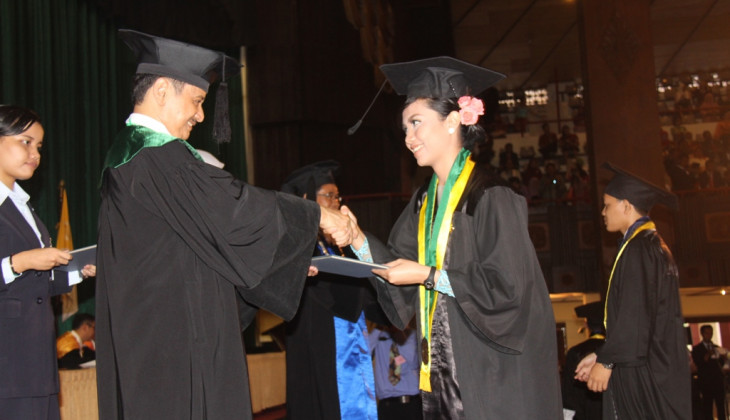 YOGYAKARTA – Indonesia's economy based on the Gross Domestic Product recently released by the World Bank has put Indonesia among the top ten, meaning that Indonesian people's purchasing power has increased.
This should be an opportunity for Indonesian small and medium scale enterprises to add value to the domestic products. "With the ranking among the top ten, we're the prima donna that attracts foreign products and that's the challenge we have to face," said Rector of UGM, Prof. Dr. Pratikno, M.Soc.Sc., to some 1,652 new graduates that have just been inaugurated in Grha Sabha Pramana (20/5).

Pratikno added, however, the purchasing power also poses a challenge for business players while the government should encourage the competitiveness of local corporations ahead of the Asean Community by 2015. "Globalisation gives room to us for cooperation, but it's much more important to win the competition in order to get marketshare," he said.
Pratikno asked people to maintain the 6% economic growth, reminding that it still depends on natural rather than non-natural resources exports. According to Pratikno, the policy in natural resource exports needs to be evaluated. "We must develop commodities that can have added values based on our abilities in science and technology," he said.
Pratikno reiterated UGM and alumni will spur the national awakening spirit to encourage all Indonesians to be always working hard amidst the global competition whilst giving contribution to the world through science and technology.
Meanwhile, UGM has inaugurated 1,652 students with the average period of study being 4 years and 6 months for undergraduate level and 3 years and 1 month for Diploma level while the highest GPA of 3.99 is attained by Laurensia Andrini (Law) in undergraduate level and 3.90 by Riska Hendika Rani (English) in Vocational School.