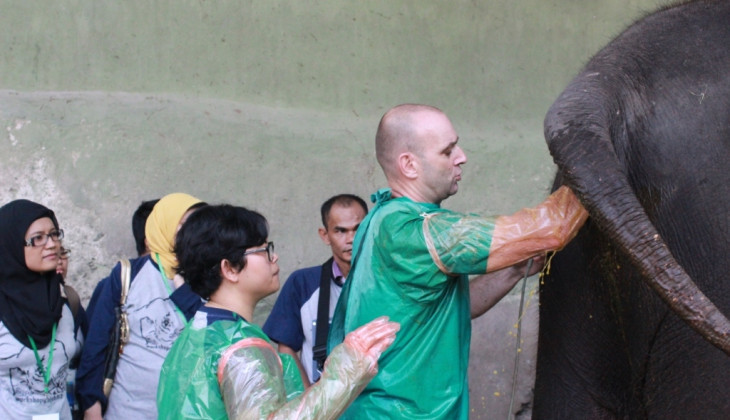 YOGYAKARTA – Sumatran elephant (Elephas maximus sumatranus) is an Indonesian endemic animal which is now critically endangered. The IUCN (International Union for Conservation of Nature) reported the population has drastically reduced due to decreasing habitat and deaths. "The Sumatran elephants have lost as high as 70% of their habitat," said Dean of Faculty of Veterinary Medicine Universitas Gadjah Mada, Dr. drh. Joko Prastowo, M.Si., after opening a workshop entitled Medical Problems and Reproduction of Elephants at UGM, Monday (9/6).

According to Joko Prastowo, the population is estimated at 2400, but now predictably, it has drastically reduced. The Faculty responded to the condition through concrete measures through good breeding management by giving training to field veterinarians.
One of the measures, according to Joko, UGM collaborating with Veterinary Society for Sumatran Wildlife Conservation (VESSWIC) - Gembira Loka Zoo Jogakarta and Taman Wisata Candi Borobudur, held a Workshop for 3 days from 8 - 10 June at UGM, Gembira Loka Zoo, and Candi Borobudur.

The Seminar and Workshop organised by Wild Animals Study Group (KSSL) and Wildlife Conservation Forum (WCF) invited veterinarians and mahouts from Ragunan Zoo - Jakarta, Balisafari and Marine Park - Bali, Bukit Tinggi Zoo, Gembira Loka Zoo, PT. Taman Wisata Candi Borobudur, Jurug Zoo - Solo, Frankfurt Zoological Society (FZS), and Maharani Zoo/Jatim Park.