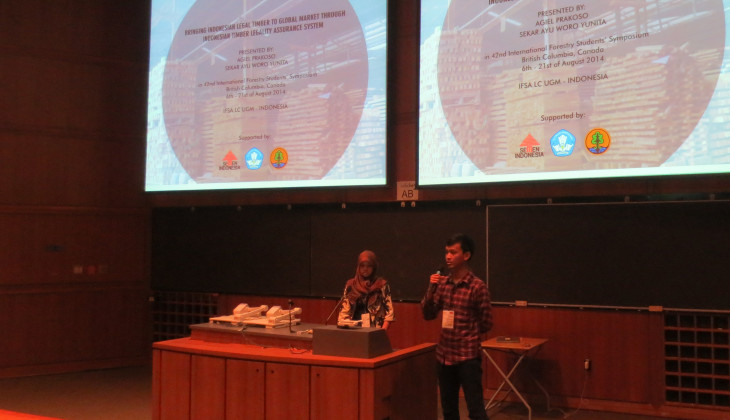 Two Forestry students of UGM, Sekar Ayu Woro Yunita and Agiel Prakoso, have been trusted to hold important positions in the International Forestry Students Association (IFSA).

During the International Forestry Students' Symposium (IFSS) in British Columbia, Canada, from 6-21 August 2014, Sekar Ayu Woro Yunita was appointed as the Asia-Pacific Regional Representative (APRR) for 2014-2015 whilst Agiel Prakoso as Liaison Officer of the IFSA for the Food Agricultural Organization (FAO).

Sekar said she would lead and monitor all local committees of the Asia-Pacific region and by 2015 will lead the meeting between Asia-Pacific students.

"As the APRR, our target this year is to establish the local committee in Japan and New Zealand," she said on Monday (8/9) at UGM.

Meanwhile, Agiel Prakoso, will be assigned to send an IFSA delegation to the XIV World Forestry Congress in Durban, South Africa Selatan, in September 2015.

In the symposium both students presented a paper on Indonesia's measures to tackle illegal logging and trade through the Timber Legality Verification System in front of hundreds of Forestry students from 32 countries.