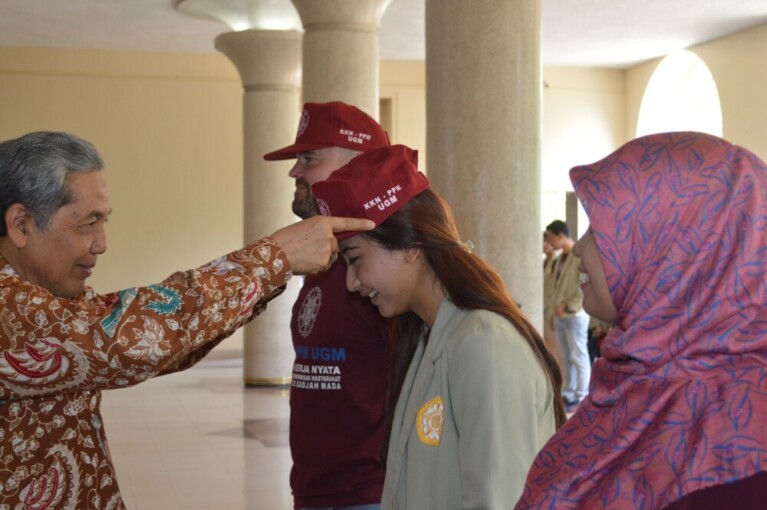 Currently, UGM Student Community Service Programme – People Empowerment (KKN-PPM) has a new perspective that assigns students as a human being with responsibility and trust to manage empowerment programme. Deploying up to 7000 students in 2014, UGM expects them that after the community service, they will be more ready to become future Indonesian leaders.
That was stated by Vice Rector for Research and Community Service, Prof. Dr. Suratman, M.Sc, when releasing as many as 255 students to joining the programme at Balairung on Monday (3/11).
"The emergence of Student Community Service Programme – People Empowerment is an answer to the need for people empowerment," he said.
In Suratman's opinion, the programme is the real contribution from UGM to society, small and middle scale enterprises, and community groups that aspire to become independent politically, economically as well as socially. The programme has withdrawn much attention from international academic community in terms of contribution of national education in people empowerment.
"The attention from international academicians can be seen in the participation of various international universities, such as from ACICIS, University Tun Hussein Onn Malaysia, Germany, Shizuoka University and Ibaraki University. This surely is a pride to Universitas Gadjah Mada," he said.
UGM teams up with other Indonesian universities in implementing the programme. It also gets support from the government.
For this period, the 255 students will be divided into 12 units staying in 3 regencies, Sleman, Bantul, and Jepara, from 3 November – 31 December 2014. They will work on diverse potentials of the villages under the themes including Increasing Home Industry Potential, Increasing Organic Agricultural Potential, Increasing Fisheries Potential, and many others.
"There are 15 international students joining this, eight from Australia and seven from France. With dedication and high performance, we hope the Student Community Service Programme – People Empowerment may become our pride," said Slamet Widiyanto, programme coordinator.