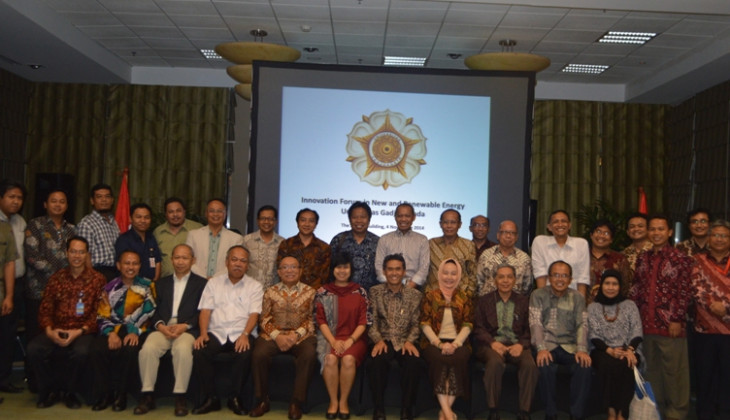 Research outcomes produced at higher learning institutions will not be of use to society if not utilised by the industry sector. UGM as a research university continues to establish collaborations with industrial shareholders, particularly in new and renewable energy.

"UGM wishes to establish a collaboration the shareholders in the industry related to regulations, technicalities, and incentives for investors," said Director of Business Development and Incubation of UGM, Dr. Hargo Utomo, M.B.A, during the UGM Innovation Forum with the theme Exploring New and Renewable Energy in the Medco building in Jakarta on Tuesday (4/11).
To the attending business players and partners, Hargo asked the players to participate in realising UGM ideas that builds the innovation centre Wisdom Park as a public learning media and innovation centre for the management of water resource, biology, and sustainable development.

Vice-Rector for Cooperation and Alumni, Prof. Ir. Dwikorita Karnawati, M.Sc., Ph.D, said UGM would continue to engage the industry in research, education, and community service. Hopefully, the UGM research will benefit society and help economic development.

Minister for Public Works and Public Housing, Basuki Hadimulyono, supported the UGM move that partners with the industry sector in research development.

"We support the use of domestic products and UGM research has to be useful," said the alumnus of the Geology Engineering UGM.

The UGM Innovation Forum also presented UGM lecturers that explained the concept of new and renewable energy, Dr. Rimawan Pradiptya, Dr. Deendarlianto, Dr. Pri Utami, Dr. Ferian Anggara, and Dr. M. Sulaiman.