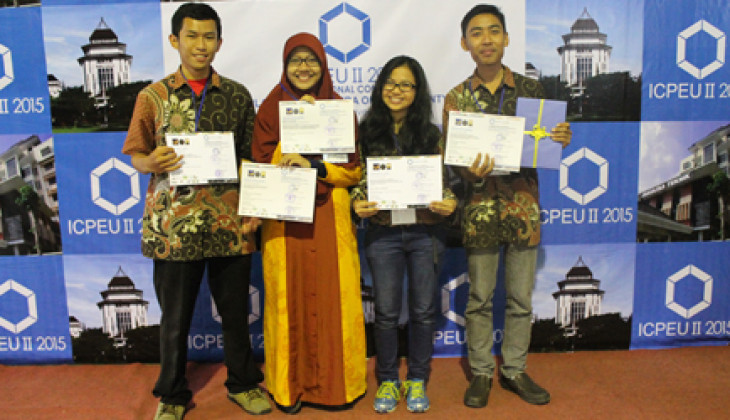 Geography students from UGM have won an award during The 2nd International Conference Planning in The Era of Uncertainty (ICPEU) conference that last from 3-4 March 2015 at Universitas Brawijaya. The UGM team brought home two awards in best paper in two categories.

The students are Indra Agus, Rizal Faozi, Andika Putri Firdausy, Faisal Ashaari, and Novi Asti Lalasati that won in the sub-theme Environment, Infrastructure, and Informatic System after presenting a paper entitled Measurement Vulnerability of Unconfined Groundwater Based on Drastic Method for Future Groundwater Management, Case Study: Groundwater Basin of Yogyakarta-Sleman-Bantul.

The other best paper award was won in the sub-theme Regional Planning and Public Policy presented by Khusnul Intan Dwi Fajar and M. Iqbal Gazali in their paper entitled The Identification of Suitability Sister Village Concept as a Disaster Management in Indonesia Toward Sustainable Development.

"The conference involved some 56 presenters and 400 participants from various universities in the world," said Andika Putri, Monday (9/3) on campus.

ICPEU is an international conference organised by Universitas Brawijaya, Malang, and Urban Studies. "Besides presenting papers, participants also join seminars, discussions, and field trips," he said.