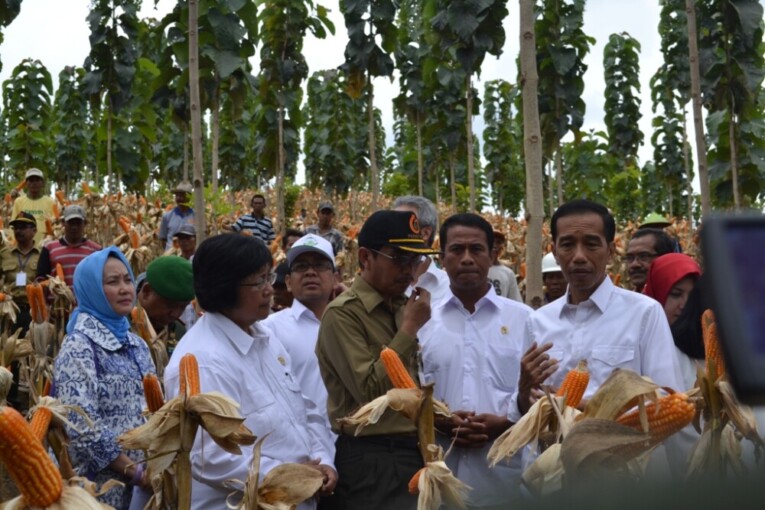 BLORA – President Joko 'Jokowi' Widodo visited the integrated agriculture system managed by state corporation Perhutani and Universitas Gadjah Mada in the area of Randublatung in Blora, Central Java, Saturday (7/3). The President was harvesting the super bimo corn that is planted between the teak trees. He appreciated the integrated agricultural system there, saying this can duplicated to other national plantation corporations in Indonesia.
"We have teak forests, palm oil plantation. They can be combined with other agricultural trees here such as teak trees and corn," said the President that is accompanied by State Minister Prof. Dr. Pratikno, Rector of UGM, Prof. Ir. Dwikorita Karnawati, M.Sc., Ph.D., Agriculture Minister Amran Sulaiman, Environment Minister, Siti Nurbaya, Governor of Central Java, Ganjar Pranowo.
President Jokowi said he had visited teak forests in Ponorogo in East Java that adopt the same concept.
Average corn productions per one hectare in Randublatung, President Jokowi said, reached 7.6 tonnes. If sold at IDR2800 per kilo, farmers can get up to 1,3 millions per month, considering that each hectare is cultivated by 3-4 farmers.
The President reiterates he has asked Agriculture Minister and Forestry Minister to maintain the integrated agriculture concept, continued with extension of lands. He said he would soon put the one million hectare of land for agriculture and plantation into realisation.
UGM researcher, Prof. Dr. Ir. Moh Naiem, said the integrated system concept developed by the Universitas Gadjah Mada's Argo-cluster required different trees to be grown for 20 years to reduce erosions as well as increase farmer's income.