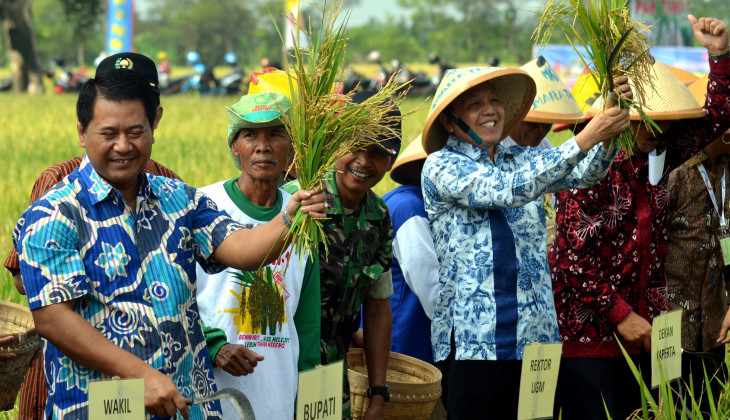 Universitas Gadjah Mada and the local government of Klaten have harvested pest-resilient rice variety called Pak Tiwi at the Trasan village of Juwiring, in Klaten - Central Java on Wednesday (22/4), attended by Vice-Rector for Research and Community Service, Prof. Dr. Suratman, and Klaten Regent, Drs. Sunarna.

The Vice-Rector has asked the government to review the policy allowing rice imports as it is feared to affect farmers' welfare.

Suratman further hoped the culture of working together in agriculture can be strengthened by involving all elements, be it government, private sector, academics, and farmers so as to realise food security.

"The organic rice harvest is the right momentum for building a cooperation with each other. We hope, following this, our stores are not supplied with Laotian or Thai but local rice," he said.

The Klaten Regent said the harvest has eradicated pest attack in the area. He hope farmers would exchange information on pest eradication.

Dr. Ir. Taryono, M.Sc, UGM agricultural lecturer, said the harvest is the result of Pak Tiwi cultivar produced by UGM alumni. It can yield up to 6 – 7 tonnes of rice per hectare.

"This is a form of partnership between Regional Government-Universities-Industry in order to gain common welfare as well as improve the condition of agricultural lands," he said.