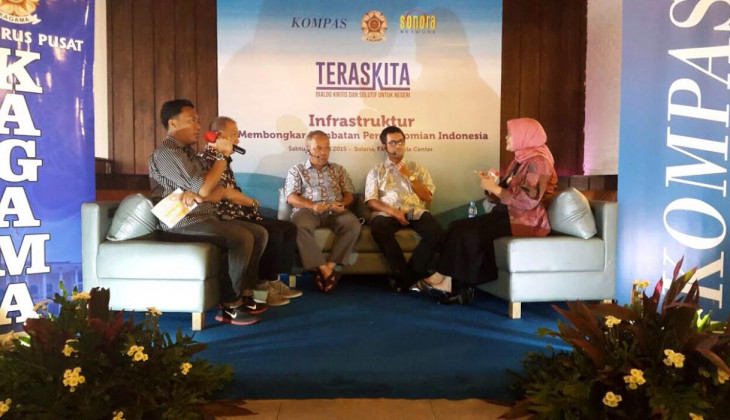 Indonesia is left behind in terms of infrastructure construction in areas such as food, maritime, energy and industry, which hampers human and goods mobility. In the long terms it hampers economic growth and widens the gap between regions and social groups.

"A challenge facing the government is how to accelerate infrastructure projects that are much left behind the real, national demands," said Budi Karya Sumadi, chairman of Association of Alumni of Universitas Gadjah Mada in a discussion entitled Infrastructure: Breaking Indonesia's Economic Bottleneck, a collaboration between the association, Kompas Komunitas and Radio Sonora, at Solaria, F1 Mall, Senayan, in Jakarta on Saturday (25/4). It presented resource person who is also Minister for Public Works and Settlement, Dr. Ir. Basoeki Hadimoeljono, M.Sc, economic researcher, Dr. Hendri Saparini, and public policy observer from Universitas Indonesia, Agus Pambagio.

Minister Basuki Hadimuljono announced the measures that have and will be taken by the government in infrastucture, such as the toll-road projects across Java.
Agus Pambagyo reminded the regional government and the Ministry on their roles to be involved since the beginning to achieve the target of construction.
Hendri Saparini emphasised the importance of differentiating the infrastructure which is the right of citizens and the infrastructure which can be purchased and owned.
Tha alumni association expected priorities be given to infrastructures such as sea-toll, food security, power plant, and13 industrial regions.