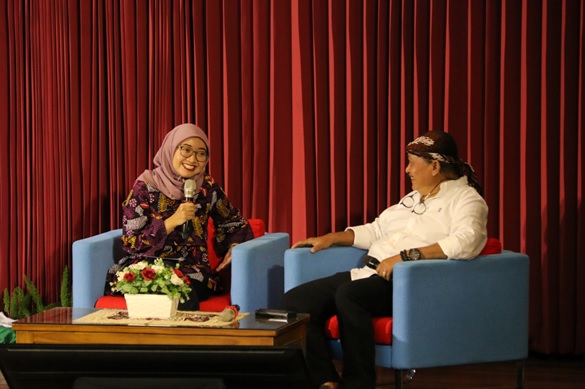 UGM Faculty of Medicine, Public Health, and Nursing Alumni Family hosted "Meridian 2023: Alumni Sharing" on Saturday (September 30) to help students prepare for life after graduation.
This event is part of the UGM Alumni Family (Kagama)'s synergy to guide students while also serving as a networking opportunity.
Since its first implementation, Alumni Sharing has been an event for students to discover what life is like after graduation. This year, the topics covered include a medical career journey, further studies, and becoming a doctorpreneur. 
"This event has been running since 2017. The reality is that newly graduated students often feel confused. Where should they go? Should a doctor only be a clinician? Or a military doctor?" said Dr. Sudadi, MD.
"We encounter many such questions. Also from nutrition and nursing students. That's why we came up with the idea of holding this alumni sharing event to provide an overview of life after graduation."
This event benefits not only students but also helps re-map the distribution of medical professionals across all sectors. This is related to the issue that the uneven distribution of medical professionals still poses a significant obstacle to healthcare access. Therefore, there is a need to strengthen students before entering their careers. 
The alumni-sharing event is divided into three sessions with 15 topics: clinical practitioners, doctorpreneurship, nutrition entrepreneurship, nursing academics, service nursing, and more.
"This year, we are trying to strengthen alumni synergy again. Many alumni from previous years also want to contribute. If compared to others, I think UGM alumni are the most solid. So, our hope for the future is that there will be more alumni activities that can help these students," added the neurosurgical anesthesiologist. 
He also mentioned that alumni contributions don't stop at this event but also include mentoring for students to stay connected with alumni. 
This event also inaugurates the Career Development Center (CDC) at the UGM Faculty of Medicine, Public Health, and Nursing as part of efforts to guide students in finding the right career path.
A UGM Faculty of Medicine, Public Health, and Nursing Alumni Family representative, Dr. Darwito, MD, shared his career journey to becoming the President Director of the UGM Academic Hospital. 
"When I graduated, I insisted on not accepting money from my father. So, I started my career at a community health center for seven years. At that time, a doctor's career meant becoming a specialist, if not in a community health center," said Dr. Darwito.
"I was also ridiculed at the time because they said that doctors in community health centers only deal with headaches, sprains, and common colds."
He acknowledged that getting to where he is today wasn't easy. It required determination, perseverance, and the courage to take risks. However, Dr. Darwito still advised students to enjoy their college years. 
"College is a one-time thing. So, enjoy it. Explore as much as you can, especially for those who come from out of town. Enjoy traveling with friends in groups. That's what will make you learn a lot," he added.
Author: Tasya