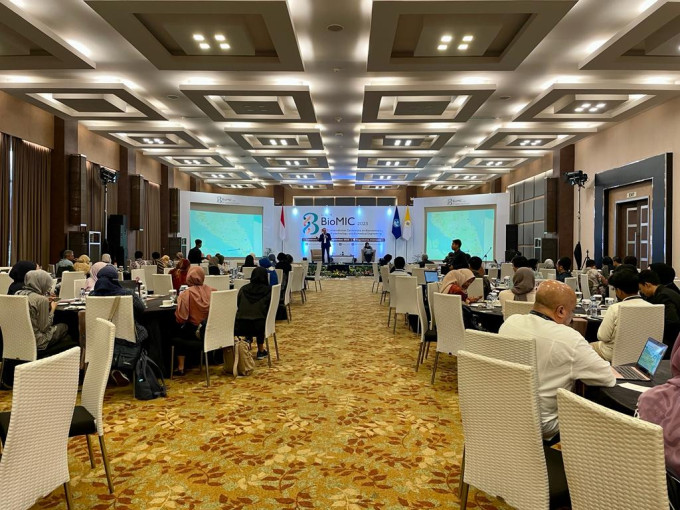 Universitas Gadjah Mada (UGM) organized the 5th International Conference on Bioinformatics, Biotechnology, and Biomedical Engineering (BioMIC 2023) as part of its annual scientific conference series from September 6 to 7, 2023.
With the theme "Accelerating Translational Healthcare by Leveraging Big Data and Machine Learning" this year, BioMIC provided an academic platform for scholars to present their latest research findings and showcase cutting-edge technologies in bioinformatics, biotechnology, and biomedical engineering.
"This conference bridges the gap between disciplines to bring and share innovations, research, and ideas on today's scientific issues. UGM is proud to be at the forefront of facilitating the dissemination of interdisciplinary research on various topics," said the Rector of UGM, Professor Ova Emilia, on Wednesday, September 6, in her address.
BioMIC 2023 highlighted the importance of interdisciplinary approaches and collaboration in addressing various global health issues. 
The integration of knowledge beyond the boundaries of the healthcare system, along with the use of technology to facilitate information acquisition, is critical in accelerating medical and health-related research.
The rector explained that as a pioneering university, UGM has a history of breaking down barriers between academics and professionals worldwide to develop superior knowledge that benefits society. This conference, she said, plays a role in addressing important global health issues. 
The organization of the 5th BioMIC, the rector added, demonstrates UGM's consistency in maintaining academic relations on a global level. 
She noted that the annual scientific conference series has successfully promoted collaboration with international partners, established scientific networks, and elevated the publications of Indonesian authors on a global scale.
"This conference reaffirms UGM's position as a standard-bearer for knowledge development. We are honored to welcome the presence of many scientists at this year's conference," said Professor Emilia.
"Thank you for your expertise and knowledge that will contribute to high-quality discussions."
The first day of the BioMIC featured presentations by Professor Teruna J. Siahaan, a researcher from the University of Kansas in the United States, and Associate Professor Ardiyansyah Syahrom from the University of Technology Malaysia. 
On the second day, plenary sessions were by Professor Hideki Enomoto from Kobe University, Japan, and Professor Min-Huei Hsu from Taipei Medical University, Taiwan.
Conference participants also attended symposiums scheduled after the sessions on the first and second days. 
This year, BioMIC is hosting five symposiums: Big Data for Public Health Policy; Bioinformatics and Data Mining; Biomedical Sciences and Engineering; Biomolecular and Biotechnology; and Drug Development and Nutraceutical.