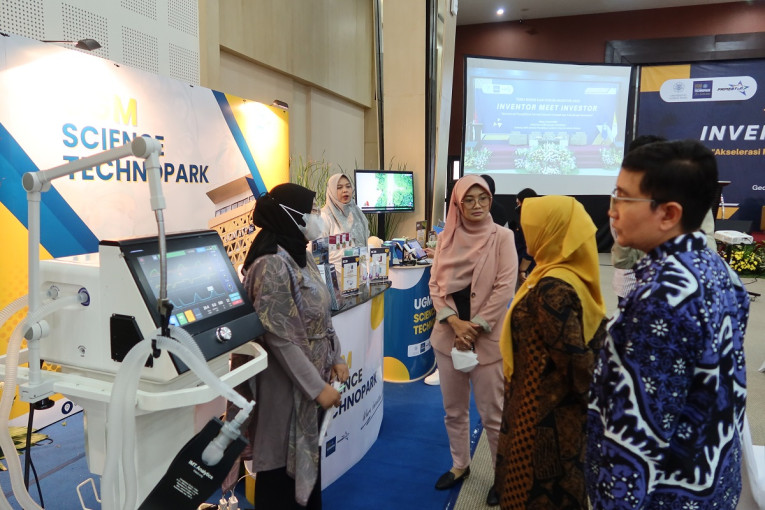 UGM hosted Inventors Meet Investors on Wednesday (21/6) at UGM Jakarta Campus to amplify the number of UGM's innovations that are commercialized and ensure the sustainability of innovations through strengthened academic networks.
Director of Business Development and Incubation, Dr. Hargo Utomo, said this activity is part of the acceleration pipeline for innovation commercialization using an industry-driven approach. 
UGM Science Techno Park plays a significant role as an intermediary unit and productive RnD platform that synergizes with industry and government.
"Innovation Project Management currently strengthens the university's efforts to expand partnerships with the industry to accelerate commercialization," Dr. Utomo emphasized.
He added that several health innovations had been initiated and developed by UGM researchers to provide solutions to health issues faced in Indonesia. 
Apart from pharmaceuticals and medical devices, health innovations also encompass supporting learning facilities for aspiring health professionals and innovations to improve health services.
"Therefore, this forum will be conducted in a series, focusing on topics related to national issues and UGM's flagship research," he explained.
The event featured various activities such as talk shows, signing of cooperation agreements, mini expos, and networking.
Vice-Rector for Research, Business Development, and Cooperation, Ignatius Susatyo Wijoyo, warmly welcomed the forum. He believes that the key to the success of this program lies in establishing the trust of business and industrial partners in the research outcomes of universities.
"It is hoped that the Inventors Meet Investors program will create a space for collaboration between industry and universities in creating innovations that positively impact Indonesia's economic progress and strengthen the nation's competitiveness," said Wijoyo.
The Inventors Meet Investors presented several inventors as follows: 
Pediatric dentist Indra Bramanti (Faculty of Dentistry)
Dr. Paranita Ferronika, MD (Faculty of Medicine, Public Health, and Nursing)
Anatomical pathologist Dr. Hanggoro Tri Renonce, MD (Faculty of Medicine, Public Health, and Nursing)
Nurse practitioner Ariani Arista Putri Pertiwi (Faculty of Medicine, Public Health, and Nursing)
Anesthesiologist Mahmud, MD (Faculty of Medicine, Public Health, and Nursing)
Orthopedist Yudha Mathan Sakti, MD (Faculty of Medicine, Public Health, and Nursing)
Dr. Sentagi Sesotya Utami (Faculty of Engineering)
Dr. Adhika Widyaparaga (Faculty of Engineering)
Dr. Muhammad Kholid Ridwan (Faculty of Engineering)
Dr. Moh. Fahrurrozi (Faculty of Engineering)
Author: Satria