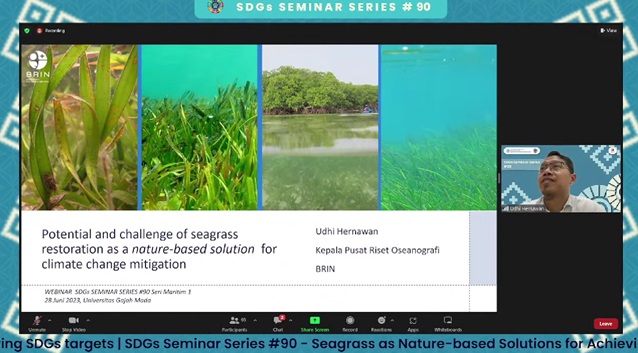 The UGM Faculty of Geography, through the Department of Development Geography, ignited a discussion on the sustainability of marine ecosystems themed "Seagrass as a Nature-based Solution for Achieving SDGs Targets" in the 90th SDGs Seminar Series held on Wednesday, June 28.
Biotic factors play a strategic role in adapting to and mitigating climate change. One of the primary indicators of climate change is the increasing carbon in the Earth's atmosphere. 
Marine areas, particularly, are crucial in maintaining balance in climate change adaptation. Seagrasses absorb carbon, reduce pathogens, and mitigate coastal erosion. Unfortunately, the quantity of seagrass is declining due to natural processes.
"The role of seagrass in reducing carbon is through absorption and storage. These two aspects are different. Many plants can absorb carbon, but not all can store it," said the Head of the Oceanography Research Center at the National Research and Innovation Agency, Dr. Udhi Eko Hermawan. 
He revealed that most seagrass varieties worldwide can be found in Indonesia. Additionally, Indonesia's seagrass carbon absorption rate is twice as high as the global average.
Numerous conservation efforts have been undertaken to preserve the existence of seagrass. According to Dr. Hermawan, seagrass conservation has significantly reduced carbon emissions. 
"If we look at seagrass conservation in North Maluku, for example, the conservation areas constitute only 5% of the total seagrass habitat. Imagine if we conserve the remaining 95%, how much carbon emissions can be absorbed," he explained.
In line with Dr. Hermawan's view, the Chair of the Cartography and Remote Sensing Program, Dr. Pramaditya Wicaksono, emphasized the significance of preserving seagrass in Indonesia. 
"We can start with mapping. This is done to identify the conservation areas needed by seagrass ecosystems," said Dr. Wicaksono.
There are four challenges in mapping seagrass habitats in Indonesia: unclear image representations, image accuracy, overall accuracy and variety of seagrass, and the widespread and mixed distribution of seagrass. These conditions hinder specific seagrass mapping efforts. 
"Regarding accuracy, it depends on the images used, their resolutions, the methods employed, and potential errors. The complexity of seagrass adds to the challenges, not to mention the water habitat's condition, whether clear or turbid," added Dr. Wicaksono.
These issues serve as a driving force to develop seagrass conservation efforts. The more seagrass habitats are preserved, the greater the absorption of carbon emissions. The hope is that Indonesia can achieve sustainable development targets by 2030 through environmentally-based initiatives.
Author: Tasya