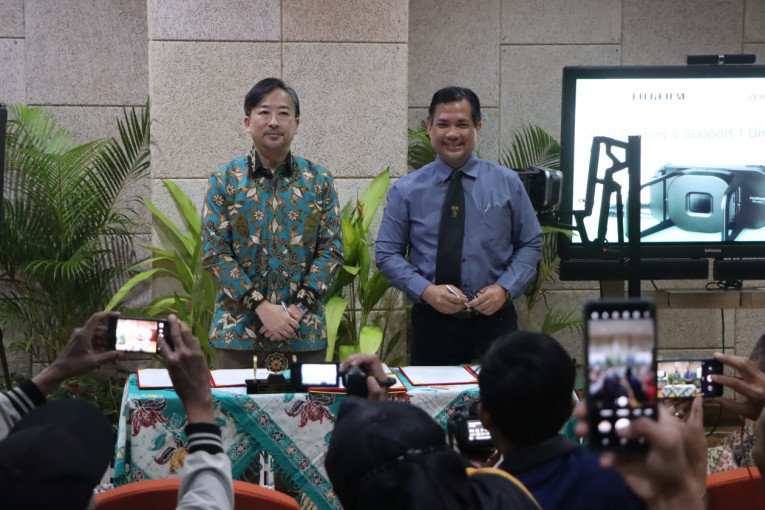 Tuberculosis (TB) is an infectious disease that can lead to death if not treated promptly. The disease is closely linked to conditions of poverty, densely populated settlements, isolated locations, and low immune systems. 
As a country with one of the highest numbers of TB patients globally, alongside India and China, the number of detected TB cases in Indonesia reached 717,941 cases in 2022, still below the estimated 969,000 cases. 
One of the reasons for this issue is that many TB patients have yet to be examined or treated due to difficulties in accessing TB examination services, either due to economic reasons or geographical constraints (remote locations). 
The government has targeted at least 90 percent of TB cases in Indonesia to be detected by 2024. The UGM Faculty of Medicine, Public Health, and Nursing (FKKMK) has addressed TB cases with the Zero TB Yogyakarta program. 
Fujifilm Indonesia donated a portable digital X-ray machine with Artificial Intelligence (AI), known as FDR Xair, to the UGM Faculty of Medicine, Public Health, and Nursing to support a massive finding of TB cases.
The machine was handed over directly by the President Director of Fujifilm Indonesia, Masato Yamamoto, to the Dean of the Faculty of Medicine, Public Health, and Nursing, Dr. Yodi Mahendradhata, MD, on Wednesday (9/8) at the Tahir Foundation Auditorium in Yogyakarta.
Masato Yamamoto explained that FDR Xair is one of the latest technological innovations from Fujifilm, capable of conducting X-ray imaging faster, with low radiation dose, and is easy to carry anywhere, including areas far from healthcare facilities. 
"The use of this device can expedite the process of TB screening using chest X-rays, as this device is equipped with artificial intelligence that helps determine suspected cases of tuberculosis," Yamamoto said.
Yodi Mahendradhata welcomed Fujifilm Indonesia's aid, which aligns with the faculty's commitment to tackling health issues in Indonesia, especially TB.
"We have been working towards zero TB in Yogyakarta since 2020, and today we receive assistance to enhance our contribution to TB elimination in Indonesia," said the dean.
Project Leader of Zero TB Yogyakarta, Dr. Rina Triasih, MD, stated that one of the main activities of Zero TB Yogyakarta is TB detection using chest X-rays. 
They collaborate with health centers to bring X-ray equipment on a bus to the community. The 250 kg X-ray equipment-carrying vehicle frequently cannot enter regions with challenging road access.
She also appreciated the gift of a miniature X-ray machine that weighed around three kilograms. 
"I think this is a good initiative as a commitment from a non-governmental entity to participate in TB elimination in Indonesia. Previously, we traveled from village to village, using buses or cars. We can reach difficult-to-access locations with this smaller device," she said.
She also noted that this AI-powered device would directly reduce the number of suspected TB patient samples. 
"We perform screening for suspected TB patients to collect sputum samples. The assistance of this artificial intelligence can reduce false positive samples and save costs and time," explained Dr. Triasih, who has a medical specialty in pediatrics.
She added that this portable X-ray device would bring services closer to the community, considering that the Yogyakarta region encompasses urban, coastal, and highland areas. 
She greatly appreciated the support from Fujifilm Indonesia in efforts to eliminate TB in Indonesia. She hoped that many other parties would join in similar efforts, as TB elimination is not solely the health sector's responsibility and can only be achieved if everyone is involved.
She mentioned that over one year of use of the Fujifilm X-air, they screened TB in 18,207 high-risk TB population, identifying 3,474 (18.4%) suspected TB cases and 260 TB patients (1.4%). 
Subsequently, these findings were followed up to ensure patients received treatment at health centers. 
"Many patients were unaware if they had TB," she said.
Author: Gusti Grehenson