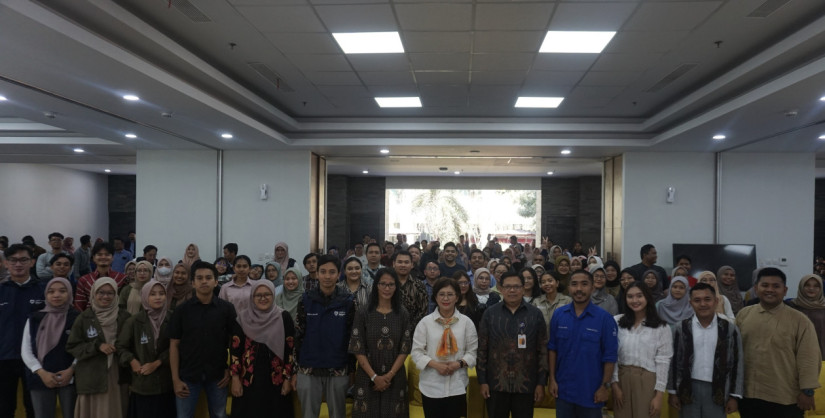 LPDP scholarship recipient community at UGM organized the Welcoming Awardees at the UGM Faculty of Law Auditorium on Saturday, September 23, 2023.
The event invited Gendro Hartono, Head of the LPDP Scholarship Service Division, and Aliffa Milanisty, a high-achieving LPDP awardee, as speakers.
The Welcoming Awardees event was attended by more than 400 participants and was opened by the Rector of UGM, Professor Ova Emilia, MD. 
During her address, Professor Emilia stated that UGM is one of the universities with the most diverse range of study programs, including social sciences, natural sciences, law, engineering, medical specialties, and more. 
This diversity leads UGM graduates to work in various sectors nationwide and abroad.
"Every time I visit a region, in Indonesia and abroad, I always meet UGM graduates who are harmonious and contribute significantly," said the rector.
Haqqi Hidayatullah, the head of LPDP recipients at UGM, revealed that based on UGM's data in February 2023, out of a total of 61,440 UGM students, 25 percent are postgraduate students, which means there are 15,360 postgraduate students at UGM.
According to LPDP data, 2,144 LPDP scholarship recipients are currently studying at UGM out of 4,648 LPDP awardees and alumni from UGM.
"At least more than 10 percent, or 1 in 10 postgraduate students at UGM, are LPDP scholarship recipients. Therefore, the role and contribution of these people are essential to support the progress of UGM and the nation," said Hidayatullah.
According to data in July 2023, UGM is the number one favorite domestic destination for LPDP scholarship recipients, with 4,253 recipients, followed by the University of Indonesia with 2,857, Bandung Institute of Technology with 1,974, IPB University with 1,306, and Indonesia University of Education with 972 beneficiaries.
Gendro Hartono provided information about LPDP's new scholarship policies during the event. Meanwhile, Aliffa Milanisty presented a topic on how to achieve a study-life balance.
The Welcoming Awardees event was closed with a musical drama performance related to the journey of an LPDP scholarship recipient. This performance conveyed a message reminding everyone to return home, contribute, and give back.
Author: Agung Nugroho