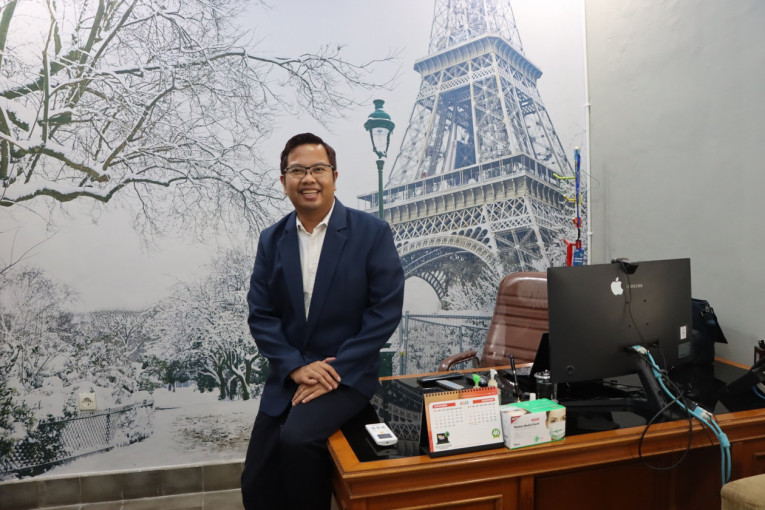 Since October 2022, the Directorate of Information Technology at Universitas Gadjah Mada has been led by Professor Ridi Ferdiana. 
Earning his professor title in June 2023 at 39, Professor Ferdiana from the Faculty of Engineering's Electrical Engineering Department is among the young leaders at UGM who hold the rank of professor. 
Currently, he is responsible for managing and maintaining the university's network and internet infrastructure and planning, managing, and maintaining reliable network infrastructure, data centers, and computing facilities.
Ridi, as affectionately known, was born and raised in Cirebon, West Java. The youngest of two siblings revealed that he had been registering for professorship consideration for almost three years. 
He considers himself fortunate due to recent rule changes and revised submission requirements for professorship applications by the Ministry of Education and Culture, allowing him to attain his professorship this year. 
"I've been in the queue for about two years. It only came through last June," he said on Tuesday (October 3).
Ridi has taught at the UGM Faculty of Engineering for about fifteen years. He completed his bachelor's, master's, and doctoral degrees at the same faculty.
"I became a lecturer in December 2008. I've been a lecturer for about 15 years, and I finally became a professor," he reminisced.
While teaching, Ridi mentioned that he has been actively researching and applying findings to benefit society and businesses. On average, he publishes 1-2 new papers yearly in journals or presents them at international conferences. 
"In a productive year, I can publish 1 to 2 publications, one in a journal and one at a conference; if I'm unlucky, just two conferences. Each year, the research topic changes, depending on the funding," said Ridi, who specializes in software engineering.
"I'm very grateful that funding at UGM isn't difficult to secure; it comes from the study program, faculty, or the university."
For the past fifteen years, Ridi revealed that he hasn't only come to campus for teaching. In between, he utilizes his time in the laboratory and works on research at his computer. 
He arrives on campus early every day and returns home around 5 p.m. Occasionally, he visits the library to read books. Whenever he sees the faculty's library, Ridi can spend up to 3 hours reading books to gather ideas for his latest research. 
"There's a small room on the third floor where I collect many books to read. Then, I create resumes for each book. I will choose research ideas that I can pursue, such as research that can secure a budget," Ridi explained.
"At least I can get a budget of 15 million from the study program or 300 million from the faculty."
Ridi doesn't just collect books in the library; he is also willing to subscribe to journals not provided by the faculty or the university to support his research. 
He has conducted research collaborations, including one with Microsoft Japan in 2019, focusing on empathetic artificial intelligence. 
"What we did was make AI understand gestures. It can communicate with users of the same age to be more relatable," he said.
Furthermore, he also researched people's habits when initiating conversations while typing messages in a messaging application. 
"At that time, I researched our society's behavior when typing on smartphones. We found out what, for example, middle school students usually talk about, whether it's formal or informal, using Indonesian or Javanese. We knew that the virtual keyboard stored what we often write," he explained.
Not only that, he has also researched cat language in collaboration with Samsung by collecting 35 to 40 thousand cat videos on YouTube. From this research, the sounds and behaviors of cats were studied. 
"We categorized it based on cat breeds and their sounds, like when a cat wants to mate or when angry. We classified the moods of cats. We collected about 35-40 thousand cat videos from YouTube, then extracted the audio and connected it with the descriptions in the video," he said.
"I dream that someday, from our devices, we can recognize the sound of a passing cat, know what it wants, and figure out what to do."
On tips for a lecturer to attain the professor title at a young age, like himself, Ridi emphasized that they should teach and conduct research simultaneously and be willing to say no to things that do not align with their expertise. 
"For example, if we are offered a non-competent job that ultimately leads to administrative work, it's better to decline. We don't reject everything, but we don't accept everything either. We must have personal targets to achieve," Ridi said.
When asked about the future research he wishes to complete, Ridi wanted to research digital siblings, where people can interact digitally with deceased siblings, close relatives, or parents through artificial intelligence (AI) technology. 
"I wonder how to integrate the behavior of those who have passed away into AI. I hope descendants can chat and interact in the future, from behavior and speech to voices made as similar as possible. What should the algorithm be like? At the very least, I can start with myself," he concluded.
Author: Gusti Grehenson