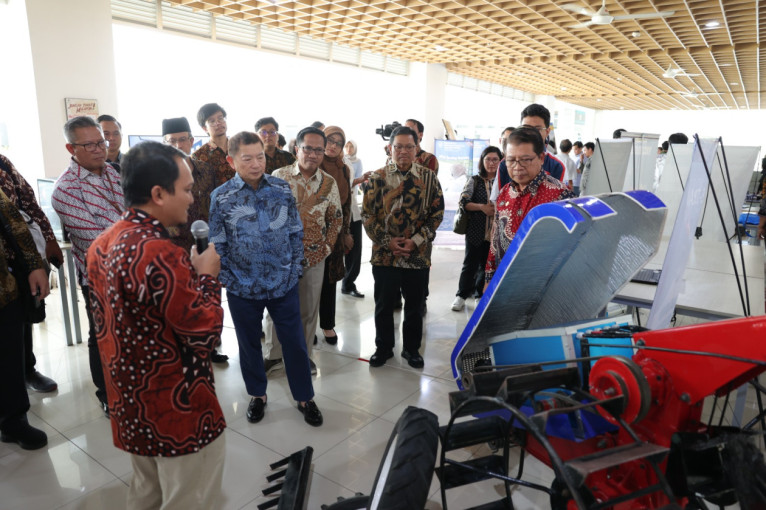 Indonesia's Minister of National Development Planning, Suharso Monoarfa, paid a working visit to the UGM Vocational College on Tuesday, September 26. 
During the visit, the minister had the opportunity to tour the Pantja Dharma building owned by the college, which will be transformed into a center for developing tourist destinations and heritage education. 
Minister Monoarfa also witnessed a technology exhibition showcasing research products from the UGM Vocational College and engaged in an interactive discussion with UGM and Vocational College leadership.
Speaking to reporters, Minister Monoarfa remarked that from his visit to the UGM Vocational College, he observed that vocational education at UGM has progressed rapidly and significantly. 
He believes that the development of vocational education at UGM can be a reference for vocational education at other universities. 
"The UGM Vocational College has made remarkable and rapid progress, and the ministry is taking notice of the college. It serves as an example for other universities in Indonesia," he said.
According to the minister, vocational education is an essential instrument given Indonesia's need for skilled and expert workers. 
"We lack skilled workers," he noted.
He explained that the shortage of skilled workers is one reason why the manufacturing industry's contribution to the Gross Domestic Product (GDP) is still below 20 percent. 
In order to prepare for the Indonesia Vision 2045 (Golden Indonesia), the minister stated that high-quality and skilled human resources are required in their respective fields.
He strongly supports UGM's efforts to develop vocational education because vocational education emphasizes theoretical knowledge and practical skills that can be applied in the field. 
"Students possess these skills because they can easily engage in practical work within the community," he explained.
He also agreed with UGM's plan to introduce a new public infrastructure risk management program. 
"We have initiatives and support for vocational schools. World-class industries experienced in vocational education can strengthen vocational education," Minister Monoarfa clarified.
The Rector of UGM, Professor Ova Emilia, expressed appreciation and gratitude for Minister Monoarfa's visit to the UGM Vocational College, which she believes further inspires and supports the college's management in producing even better work. 
"Hopefully, this will boost the spirit and enthusiasm of the UGM Vocational College. The work produced by the college reflects the dedication and seriousness of the college's management," she said.
The Dean of the UGM Vocational College, Professor Agus Maryono, mentioned that the development of vocational education carried out by the UGM Vocational College aims to support the Indonesia Vision 2045. 
"We want to support vocational education as a vocational development center in Indonesia," he explained.
Professor Agus Maryono stated the UGM Vocational College currently offers 22 applied bachelor's programs with 6,204 students and 342 educators. The average waiting period for graduates to secure jobs is approximately four months. 
Author: Gusti Grehenson
Photographer: Firsto