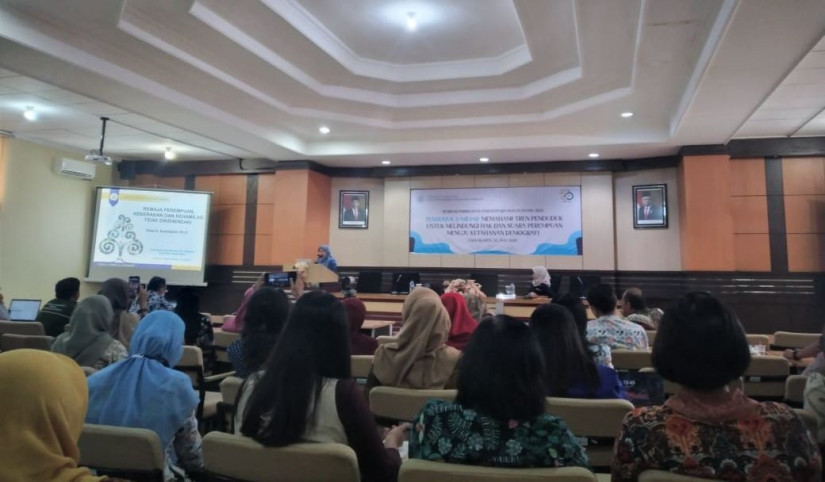 To commemorate the 2023 World Population Day, the UGM Center for Population and Policy Studies (PSKK) organized a seminar titled "8 Billion Population: Understanding Population Trends to Understand Women's Rights and Voices Towards Demographic Resilience."
The seminar took place in Yogyakarta on Tuesday (25/7) and invited a commissioner from the Indonesian Commission on Violence Against Women, Satyawanti Mashudi, to discuss the existence of women in society.
One of the issues discussed in this forum is violence related to women's fertility and their bodies, which still occurs today. Women often face injustice in their role as bearers of children. 
"Society still holds the notion that bearing children is a woman's destiny and not a matter of individual choice. There are many cases where women who do not want or are unable to have children face discrimination," said Mashudi.
According to data from the commission, violence against women related to fertility is still prevalent, such as rape, forced pregnancy, forced sterilization, forced marriage, forced abortion, and others. 
"Based on our data, women face problems exercising their rights to have or not have children. For example, there are cases where women are prohibited from using contraception and end up using it secretly because they feel they already have enough children," Mashudi added.
"Still, their husbands forbid them from using contraceptives."
The seminar also addressed the issue of violence and sexual coercion among teenage girls. 
"At least 42.7% of unmarried women have experienced violence, and there are 3528 cases of violence in dating. This includes children aged 14-15, which are still very young," said a researcher at the Center for Population and Policy Studies, Dr. Dewi Haryani Susilastuti.
"Most of them believe that the person they love is a safe place, but it is not."
Dr. Susilastuti added that dating violence incorporates physical and emotional kinds. 
"Most teenagers do not fully understand the concept of emotional violence, which is usually conveyed verbally," she explained. 
Emotional violence is just as dangerous as physical violence because it can affect teenagers' emotional and mental states. Moreover, emotional violence can indirectly lead to physical violence.
The discussion of unhealthy relationships also extends to the issue of premarital sex. Dr. Susilastuti explained that premarital sex among teenagers can occur through coercion or consent, but the individuals' lack of understanding drives both. 
"Cases of forced premarital sex are common, but what is equally dangerous now is when trends drive this behavior. Teenagers find themselves feeling left out because they have not had sex. This should be a concern for parents," she said.
Addressing the numerous violence cases against women is challenging without support from the surrounding environment. Social constructs in society need to be gradually changed to create a safe environment for women.
Author: Tasya