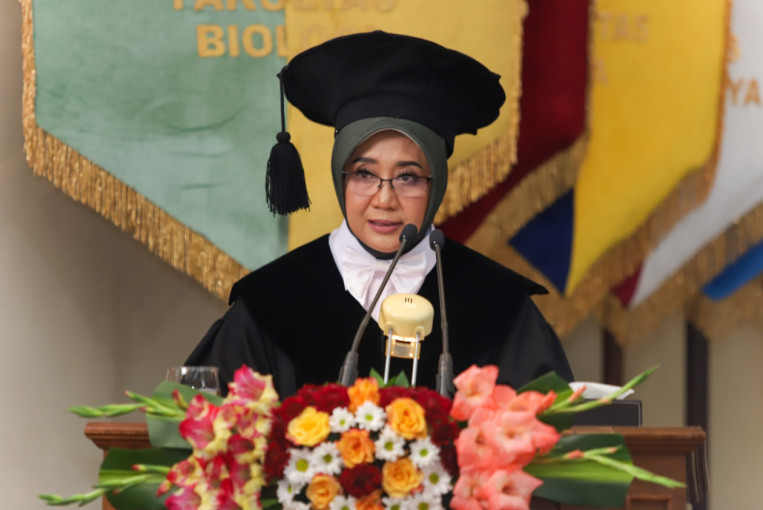 Dr. Diah Rachmawati, the newly inaugurated professor from the UGM Faculty of Biology, has highlighted the threat of climate change to the survival of life on Earth, specifically plants. Climate change can impact the growth and productivity of food crops.
According to Professor Rachmawati, the environmental changes caused by global climate change have adverse effects on plant conditions. Unfavorable ecological conditions can limit plant functions, leading to stress and strain.
"Extreme environmental conditions can negatively affect the growth, reproduction, and survival of plants," she stated during her inaugural speech titled "The Application of Plant Physiology in Mitigating the Impacts of Global Climate Change" on Tuesday (18/7) at the UGM Senate Hall.
Citing research by Fang and Xiong in 2005, she explained that the current climate change is predicted to affect the growth and productivity of food crops by over 50% by 2050. Global climate change, including increased CO2 levels, drought, salinity, and high or low temperatures, can cause various strains affecting plant physiology.
Furthermore, studies on plant responses to climate change indicate that most plants are expected to be more stressed and less productive. Understanding the physiological aspects of food crops provides a scientific basis for metabolism, growth, and development. This knowledge is essential for improving yields and developing agricultural technologies to cope with climate change.
"Plant physiology studies integrate information on abiotic stress response rates and identify stress tolerance mechanisms needed to engineer environmentally stable plants. It also results in increased product yields with less water and diminishing resources to meet the increasing food demands of the growing world population," she elaborated.
Professor Rachmawati stated that applying plant physiology could help develop more effective and efficient technologies and strategies to mitigate environmental strains and address the impact of climate change. Abiotic stress can be mitigated through omics approaches and plant breeding via molecular and genetic engineering.
Developing plants that are tolerant to strains is one of the strategies for mitigating environmental stress. Plant physiology research has successfully identified mechanisms for plant tolerance to high temperatures, droughts, floods, and other environmental strains. One way to enhance plant tolerance to stresses is through phenotypic screening and genetic selection using conventional and genetic engineering breeding methods.
Applying plant physiology to ecosystems and the environment can significantly benefit the understanding and management of the environment. For instance, in efforts to reduce CO2 emissions and address climate change, plant physiology research can be utilized to identify plant species that are more effective in absorbing carbon based on clean photosynthesis analysis, which can help identify carbon reserves.
"From several previous studies, it is known that some plants identified with high carbon absorption include Anthocephalus cadamba, Mimusops elengi, and Alstonia scholaris," she revealed.
Author: Ika
Photographer: Donnie