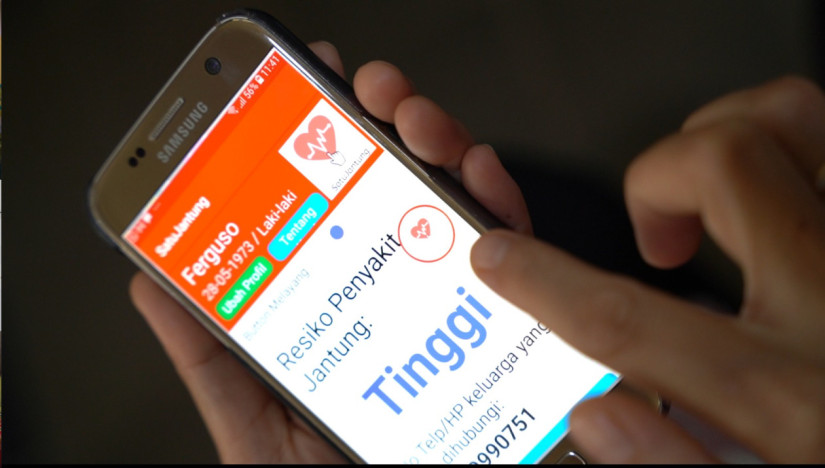 A lecturer from the UGM Faculty of Medicine, Public Health, and Nursing has developed an application to assist in treating cardiac arrest cases named SatuJantung 2.0. The lecturer is a medicolegal expert and forensic doctor, Beta Ahlam Gizela.
Gizela shared that the initial idea for creating SatuJantung arose when she and her husband, Nurholis Majid MD, witnessed their son experiencing a sudden heart attack. 
Inspired by this experience, they were compelled to create a tool to assist many people during a heart attack, especially in the absence of healthcare professionals.
"The doctor who treated my son during the sudden heart attack said that he probably wouldn't have survived if it weren't for his parents being doctors," she revealed.
The SatuJantung application has been released on Play Store and is available for download for everyone, especially those with a history or risk of heart attack and cardiac arrest. 
Users can register by entering personal data such as name, gender, date of birth, phone number, emergency contact number, blood pressure, weight, height, smoking history, diabetes history, and physical activity. 
Once these data have been entered, the application will assess the user's heart disease risk.
"If the results show a high risk, it is advisable to use this application," she stated.
She explained that her app is designed with a main feature consisting of an alarm for heart attack and cardiac arrest patients. Such a feature can be activated with just one click on the floating button.
"So, when an attack occurs, time is of the essence, and this floating button can save the user," she explained.
When the floating button is clicked, several pieces of information will appear to assist healthcare professionals in identifying the patient. This information includes the risk of heart disease, emergency contact details, and an emergency button.
In the event of a heart attack or cardiac arrest, users or nearby people can click the emergency button in the app. They can then follow the instructions for first aid based on the patient's condition. For example, if the patient is conscious or unconscious, they can seek assistance from others to help call emergency services at 119 (ambulance service).
"Currently, it is only for Android versions ten and below. In the future, it will be developed for higher versions and can connect directly to hospitals and ambulance services," she explained.
She added that the application guides those who have yet to undergo training to perform CPR. Based on her husband's literature review, around 10 out of 100 cardiac arrest patients who received CPR as first aid were saved. They had three times greater chances of survival compared to those who did not receive any first aid.
The introduction of SatuJantung 2.0 is expected to aid in treating more cardiac arrest patients. It is well known that heart disease is one of the leading causes of death in developed and developing countries. 
According to the Global Burden of Disease and Institute for Health Metrics and Evaluation (IHME) report from 2014 to 2019, heart disease is Indonesia's leading cause of death. 
Data from Indonesia Basic Health Research (Riskesdas) in 2013 and 2018 showed an increasing trend in heart disease, from 0.5% in 2013 to 1.5% in 2018. 
According to the Social Security Administrator for Health, heart disease was the highest healthcare cost burden in 2021, with a financing amount of IDR 7.7 trillion.
Author: Ika
Photographer: Firsto