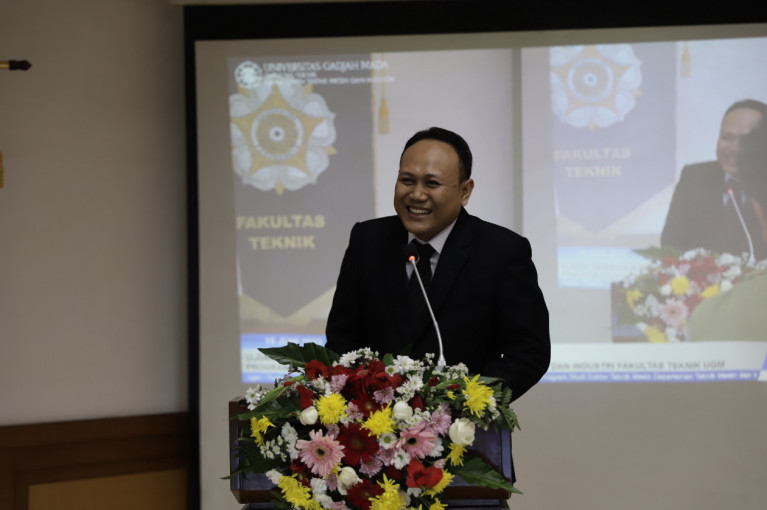 Setya Wijayanta, a doctoral student in Mechanical Engineering at the Department of Mechanical and Industrial Engineering, Faculty of Engineering, Universitas Gadjah Mada (UGM), obtained his doctorate after defending his dissertation on Thursday, June 15. 
In his dissertation titled "A Study on the Influence of Fluid Physical Properties on the Characteristics of Co-current Air-Water Stratified Flow in Horizontal Pipes," Setya stated that co-current gas-liquid stratified flow in horizontal pipes is commonly found in pipeline systems designed to operate in the stratified flow pattern or regime due to its low-pressure fluctuations.
On the other hand, unstable slug flow with high-pressure fluctuations can be dangerous and may cause pipe rupture if it occurs in pipeline networks. Therefore, understanding interfacial wave characteristics in the stratified flow pattern is crucial for comprehending and developing flow pattern models nearby, such as slug and annular flow.
Setya used air and water at atmospheric pressure as the test fluids. Water was mixed with glycerin, with 30 percent and 50 percent percentages in the mixture, to vary the liquid viscosity. Meanwhile, water was mixed with butanol, with butanol percentages of 2 percent and 5 percent, to vary the liquid surface tension.
He found six identified sub-patterns of stratified flow: stratified smooth, 2-D wave, 3-D wave, roll wave, entrained droplet plus disturbance wave, and pseudo slug. Additionally, increasing viscosity and decreasing liquid surface tension caused a shift in the transition line and changes in the area of each sub-regime.
He also discovered that increasing liquid viscosity increased the gradient of liquid film thickness and liquid holdup. Changes in surface tension increased the pressure gradient, but their influence on the changes in liquid film thickness and liquid holdup was minimal.
In terms of transverse stratified flow, it was found that the wetted wall fraction decreased with increasing liquid viscosity and increased with decreasing liquid surface tension.
Author: Gusti Grehenson