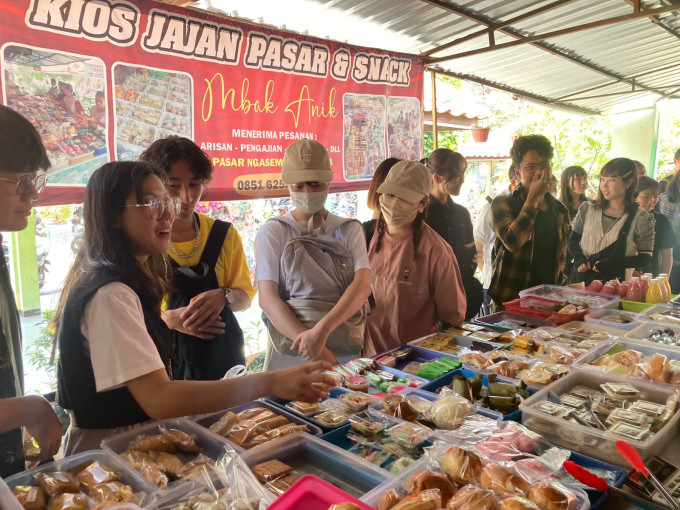 The UGM Faculty of Agricultural Technology strengthens international cooperation with Ehime University, Japan, in exploring food culture in Indonesia, especially in Yogyakarta. 
This activity involved 12 students from the Faculty of Agriculture, Ehime University, accompanied by two lecturers, Professor Takuya Sugahara and Associate Professor Kosuke Nishi.
The event, lasting from September 1 to 5, 2023, included visits to traditional markets such as Beringharjo Market, Ngasem Market, several modern retail outlets, and food processing industries. 
During the visits, the students had direct interactions with stakeholders in the fresh and processed food industries in the Yogyakarta area. They also had the opportunity to understand food distribution processes and food culture.
In addition to the visits, a joint seminar and student activity on food and culture were organized. 
Students from the Faculty of Agriculture, Ehime University, and UGM Faculty of Agricultural Technology presented topics related to food culture, functional foods, and local foods from their respective countries. 
They also engaged in discussions on these topics as a form of knowledge transfer between each other. 
This five-day program aimed to provide a deeper understanding of the dynamics of food culture in Yogyakarta and Ehime and contribute to mutual benefits in developing knowledge in this field.
Dean of Agricultural Technology Faculty, Professor Eni Harmayani, welcomed this initiative. 
She stated that this cooperation represents a collaboration and demonstrates the faculty's commitment to expanding the knowledge and experience of its students. 
She also emphasized that this activity benefits students as the young generation who will become "The Future Leaders" by expanding their international networks and connections.
"The UGM Faculty of Agricultural Technology and the Faculty of Agriculture, Ehime University, hope this cooperation will continue to grow and provide greater benefits, both for the two universities and the broader community," said the dean.
Author: Luqlun
Editor: Agung N