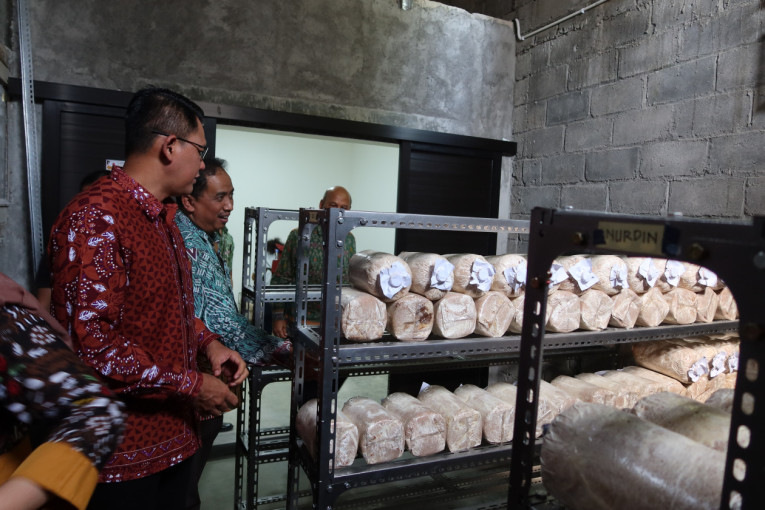 UGM has opened the Edible Mushroom Research and Development Unit (UP2JK) at the Wood Processing Laboratory in the UGM Faculty of Forestry.
This research center was established to develop edible mushrooms to improve the welfare of mushroom media (baglog) makers and mushroom farmers, especially in Sleman. 
This unit was made possible through a collaboration between the Faculty of Forestry and Nagoya University, Japan, with funding support from JICA. 
Since late 2021, researchers from UGM and Nagoya University, along with the Gifu Forestry Research Institute, have provided guidance and empowerment to mushroom farmers in Sleman to enhance their expertise and management in mushroom cultivation.
Dean of the Faculty of Forestry, Dr. Sigit Sunarta, said that this mushroom research center is one of the efforts to realize food diversification to mitigate climate change that threatens national food security. 
The introduction and intensification of the production of edible mushrooms are among the actions offered to the community, especially in the Sleman Regency.
"Utilizing the existing resources in Sleman Regency, such as the raw materials for baglog from wood processing waste, cultivating edible mushrooms, and trading them, will increase economic activities expected to improve the welfare of farmers," the dean said in his remarks during the inauguration of UP2JK on Tuesday (12/7).
He also thanked the Sleman Regency Government, JICA, and Nagoya University for supporting UP2JK. He further invited various parties to collaborate and work together in cultivating edible mushrooms. 
Through support and synergy among the parties, it is hoped that the production of oyster mushrooms will increase, thereby improving the economy and welfare of farmers.
Sleman Deputy Regent, Danang Maharsa, expressed his appreciation and hope that the research and development unit could raise public awareness of developing alternative food and supporting local products.
"If public consumption of mushrooms increases, the supply of mushroom products will also rise, resulting in increased welfare for the community," he explained.
The deputy regent mentioned that in 2022, Sleman had 13 mushroom farmers, with an annual production of 3,866.10 quintals. This condition poses a challenge in ensuring mushroom products can be processed appropriately and healthily.
"I hope that UGM's research and development unit for edible mushrooms can provide knowledge and skills for the people in Sleman to process healthy and economically valuable edible mushroom products," Maharsa added.
Professor Yamamoto from Nagoya University mentioned that the collaboration for mushroom cultivation development has been ongoing from October 2021 until September 2024. 
For approximately 1.5 years, the collaboration has empowered farmers in Sleman and established the research and development unit for edible mushrooms at UGM.
"This research unit at UGM has complete facilities to support research and development in edible mushroom cultivation," he explained.
Through research and development activities in this laboratory, various types of baglogs and mushroom varieties that are economically valuable can be produced and distributed to the community for cultivation. 
The unit has several mushroom media production tools, sterilization equipment, incubation rooms, and cultivation spaces. Besides research and development, this unit is expected to serve as a center for information exchange and knowledge about mushroom cultivation technology for farmers and baglog makers in Sleman and the broader community.
Author: Ika