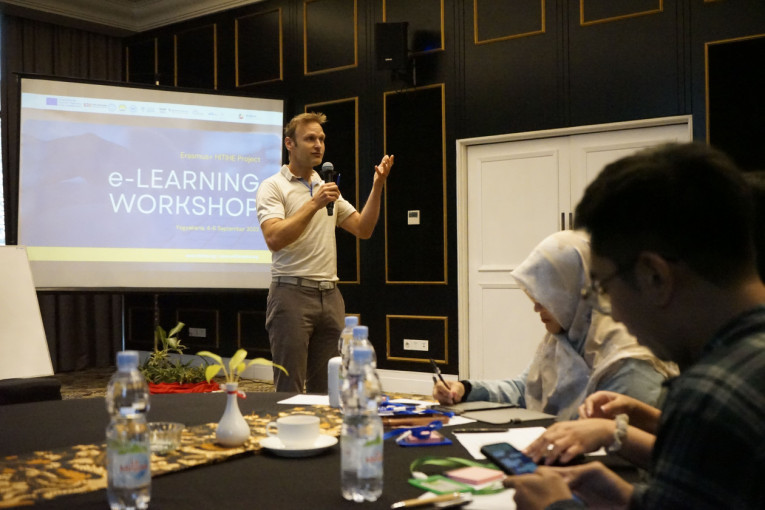 Universitas Gadjah Mada (UGM) and 12 institutions in Southeast Asia and Europe, teaming in the Health Information Technology for Indonesia in Higher Education (HITIHE) consortium, have launched a digital education platform called WikiTropica. 
This platform has been developed to address the needs of healthcare professionals and healthcare education institutions in enhancing their capabilities in tropical medicine.
WikiTropica serves as an online learning tool, focusing on interactive case-based training. 
Academics and clinicians from the UGM Faculty of Medicine, Public Health, and Nursing have collaborated to create comprehensive online learning materials that reflect real-world health situations in Indonesia.
"All consortium members, including Indonesia, are striving to provide a platform for tropical medicine education by offering real-life cases commonly encountered in the field," Dr. E. Elsa Herdiana Murhandarwati from the UGM Center for Tropical Medicine explained.
The launch of WikiTropica is crucial in addressing the challenges related to the gap in access to quality tropical medicine education in Indonesia. 
The disparity in the quality of medical education in Indonesia has hindered healthcare professionals from enhancing their capacity to diagnose and treat patients.
This digital platform contains information related to tropical diseases and serves as a comprehensive training tool systematically organized by academics and professionals. 
Healthcare professionals and medical students can strengthen their capacity to make diagnoses, understand symptoms, prescribe medications, and reflect on the complexities of daily medical practice.
Dr. Steven Van Den Broucke from The Institute of Tropical Medicine (ITM), Belgium, emphasized the importance of accurate diagnosis.
"Incorrect diagnoses can lead to excessive medical interventions. With WikiTropica, we want to guide healthcare professionals and medical students in addressing diagnostic challenges in a structured and rational way," he said.
"This is especially important in situations with limited resources, where excessive medical interventions are not an option."
WikiTropica is part of the HITIHE project, a collaborative professional network in the health field to improve the quality of health education in Southeast Asia. 
HITIHE is a collaboration between Belgium (The Institute of Tropical Medicine), Cambodia (Institute of Technology Cambodia, University of Health Sciences, National Institute of Public Health), Indonesia (Universitas Gadjah Mada and Sebelas Maret University), Spain (Sant Joan de Déu, Vall d'Hebron, ISGlobal), and the Netherlands (Maastricht University). 
This project has been implemented with the support of the Erasmus+ program of the European Union and the Directorate-General for Development Cooperation and Humanitarian Aid (DGD) of the Belgian Government.
Author: UGM Center for Tropical Medicine
Editor: Gloria