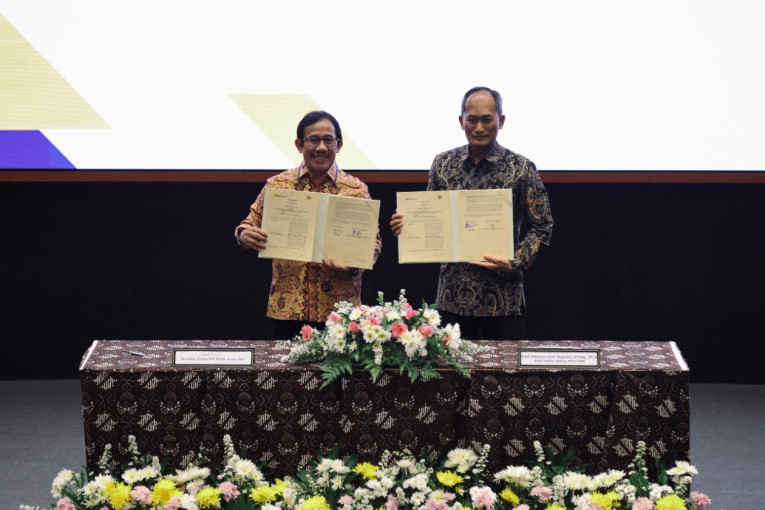 Universitas Gadjah Mada (UGM) and PT Bukit Asam Tbk have agreed to collaborate in education, research, community service, technology development, and human resources strengthening. 
The memorandum of understanding between the two parties was signed by the UGM Vice-Rector for Asset Planning and Information Systems, Dr. Arief Setiawan Budi Nugroho, and President Director of Bukit Asam, Arsa Ismail, on Friday (September 15) at the UGM Faculty of Engineering.
The vice-rector mentioned that this collaboration with Bukit Asam is the third of its kind. Previously, Bukit Asam collaborated with the Faculty of Forestry, the Faculty of Social and Political Sciences, and the Faculty of Medicine, Public Health, and Nursing. 
"The collaboration with the Faculty of Forestry is related to environmental issues because Bukit Asam is involved in exploration and environmental conservation," Dr. Nugroho said.
Regarding research collaboration, Dr. Nugroho hopes Bukit Asam will apply various technologies developed by researchers, especially in minerals and coal, to add value to mining products. 
"We don't want the university to be solely focused on research results that only result in publications but can also be applied and beneficial to the nation," he said.
The vice-rector added that the number of experts at UGM is increasing, with around 400 professors currently employed. However, this is still far from the target of having 700 professors or more than 20% of the total number of lecturers, which presently stands at 3,427. 
"This year, we have added 99 lecturers who have been promoted to professors. There might be one more to make it an even 100," Dr. Nugroho said.
President Director Arsal Ismail stated that research collaboration with UGM is essential for coal products downstream from his company. They continuously optimize and economize coal exploration according to market prices. 
"When prices are good, we try not to deplete our reserves. However, when prices drop, we optimize," Ismail explained.
He mentioned that his company supports the government's policy to encourage upstream to downstream production activities to increase product-added value. The downstream of coal products involves researchers from the UGM Faculty of Engineering. 
"Nickel product downstream has been widely done, while coal is still in progress. We are trying to make coal more commercial, such as extracting humic acid from coal for use in agricultural fertilizers because it can increase soil fertility," he said.
In addition to research collaboration, Ismail hopes that educational collaboration in student internships can be carried out, allowing students to participate in coal exploration and research commercialization activities. 
"In the future, we hope this collaboration can become a long-term partnership, not only optimizing research but also allowing students to intern directly at our facilities," the president director concluded.
Author: Gusti Grehenson
Photographer: Donnie