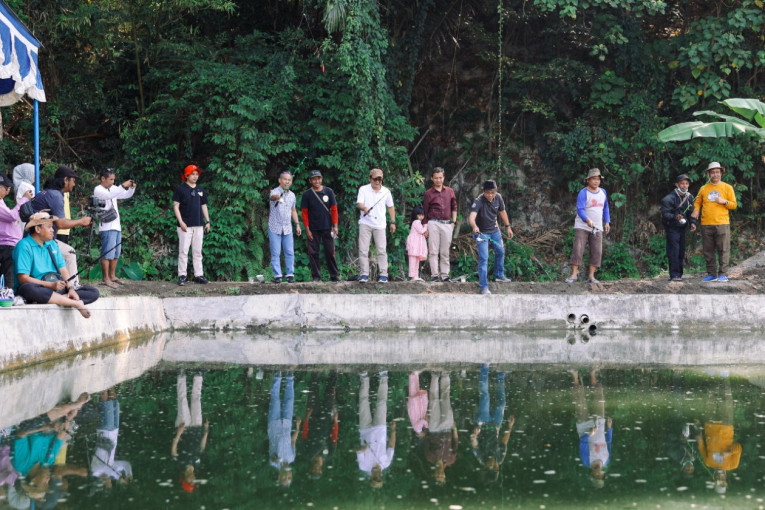 Universitas Gadjah Mada (UGM) and the UGM Journalist Forum (Fortakgama) organized a fishing event at the fish pond of the UGM Agrotechnology Innovation Center (PIAT) in Berbah, Yogyakarta, on Saturday, September 23. 
This fishing activity was attended by approximately 65 journalists from various print, electronic, and online media.
Sigit Purwita, one of the senior journalists representing Fortakgama, expressed his appreciation to UGM for organizing a media gathering event with journalists in the form of a fishing activity. 
According to this Beritajogja journalist, such media gathering events help strengthen the camaraderie among journalists and between journalists and UGM leadership. 
"Events like this provide an opportunity to come together again. Hopefully, fishing events like this will be held more frequently to foster closer relationships between UGM leadership and journalists," Purwita said.
Secretary of UGM, Dr. Andi Sandi, mentioned that the purpose of this media gathering was to build unity and familiarity between UGM leaders and journalists who cover daily activities at UGM. 
"This collaboration allows us to come together to achieve our respective goals," Dr. Sandi said.
The UGM Vice-Rector for Student Affairs, Community Service, and Alumni, Dr. Arie Sujito, stated that journalism is a noble profession because the press is the fourth pillar of democracy. 
"Our journalist friends play a role in shaping the history of democracy," Dr. Sujito said.
Dr. Sujito emphasized through the media, UGM aims to continuously convey information to the public regarding various discoveries, knowledge, and cutting-edge technologies that can benefit society, the nation, and the state. 
"Knowledge does not thrive in arid land but depends on our closeness to the community," he added.
During the joint fishing event, Dr. Arie Sujito, Dr. Andi Sandi, Sigit Purwita, and Professor Taryono, the Head of the Agrotechnology Innovation Center, performed a symbolic casting of fishing rods into the pond. 
In addition to UGM leaders and journalists, the event involved participants from various faculties and directorates within UGM. 
At the end of the event, it was announced that the participants with the most catches were Andreas Fitri from Antara, Tono from the Agrotechnology Innovation Center, and Zarodin from UGM Public Relations and Protocol Office. Each of them received a cash prize.
Professor Ova Emilia, MD, the Rector of Universitas Gadjah Mada, who had the opportunity to present awards to the fishing competition winners, congratulated them. 
On that occasion, the rector expressed her hope that journalists would continue to be enthusiastic in delivering various information and achievements the UGM academic community attained. 
"I am delighted to be here at this event. I hope this becomes a highly beneficial activity for ourselves. Besides being a form of healing, we can communicate and interact directly so that we can work even better in the future," Rector Emilia concluded.
Author: Gusti Grehenson
Photographer: Donnie