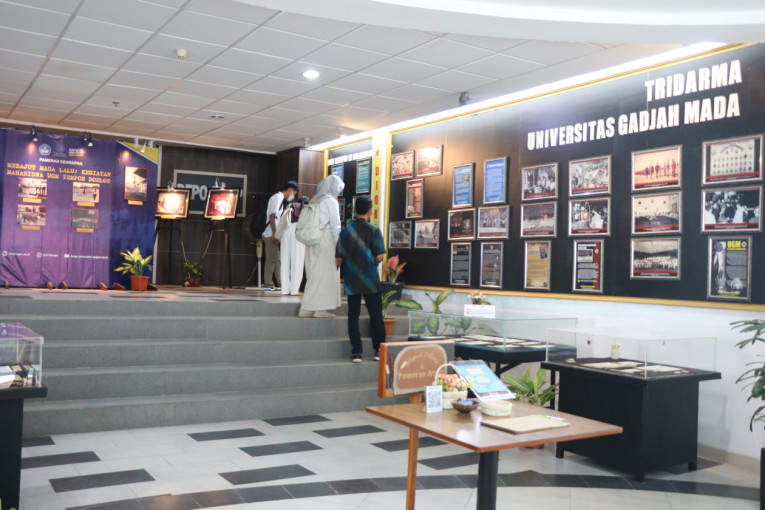 UGM Archives Office is hosting an exhibition titled "Knitting the Past: UGM Student Activities in the Past." 
This exhibition ran for 15 days, from September 6 to September 20, 2023, as part of the activities to welcome the new academic year and commemorate the 19th Anniversary of UGM Archives.
"We are showcasing various archival treasures related to UGM student activities from the past, around the years 1960 to 1989," said the Head of the UGM Archives, Dyana Rakhmasari, on Friday (September 8).
Rakhmasari was pleased to see new UGM students taking the time to visit this exhibition. These students came from the Archives and Information Record Management program and other faculties such as Engineering, Political and Social Sciences, Cultural Sciences, etc.
Some of the treasures on display include the archives of new student admissions. The photos presented depict scenes of student registration, entrance exams, and student orientation from year to year.
There are also archives of student achievements and organizations, such as student council elections and inaugurations, and arts and sports activities, such as traditional fashion shows, scientific exhibitions, student sports weeks, artistic missions, and more.
"We also have archives related to community service activities and more," she added.
The head hopes the UGM Archives Office can regularly hold exhibitions on campus. With such hopes, information will continue flowing for UGM's academic and surrounding communities.
"It's certainly interesting to see records of past events to navigate the journey of the present and prepare for the journey of the future. You can access UGM Archive information for the audience by visiting the UGM Archives Office Instagram account: @arsipugm," she concluded.
Author: Agung Nugroho