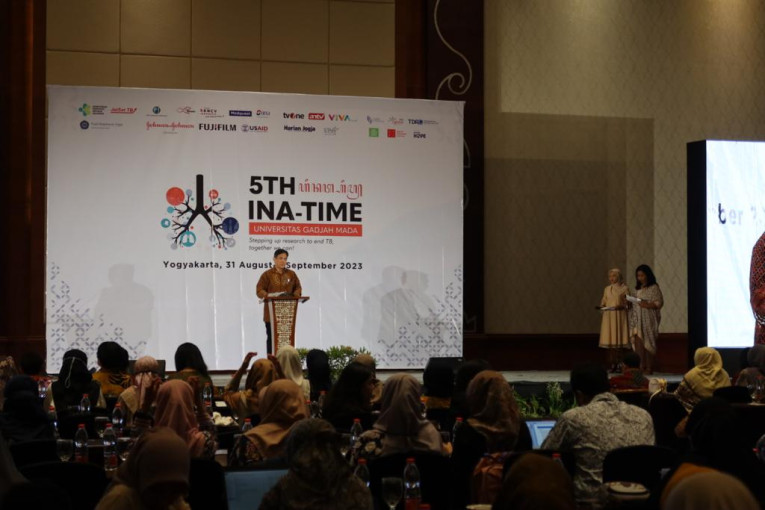 The Ministry of Health, in collaboration with Universitas Gadjah Mada (UGM), organized the 2023 Indonesia Tuberculosis International Research Meeting (INATIME). 
This event gathers researchers, healthcare providers, policymakers, and experts to share research and innovative solutions related to the prevention, clinical management, and control of tuberculosis (TB).
INATIME 2023 occurred on September 1-2, 2023, at the Sahid Raya Hotel & Convention in Yogyakarta. 
During the event, the Minister of Health, Budi Gunadi Sadikin, presented a virtual keynote speech discussing strategies and achievements in TB elimination in Indonesia. He highlighted one of the challenges in eliminating TB in Indonesia: the difficulty in identifying TB cases.
"Hundreds of thousands of people with TB have not been identified. We need to address this issue first, ensuring that at least 90 percent of cases are accurately identified and treated to prevent further transmission," he said.
In addition to accelerating case identification, Minister Sadikin is also actively promoting research that can support TB elimination efforts, including research on TB treatment. 
"We need to be aggressive in our approach because TB is a disease with a higher mortality rate than COVID-19, and we have not been able to solve it for decades," he added.
With the theme "Stepping Up Research to End TB, Together We Can!," this annual conference emphasizes the importance of research, innovation, and contributions from various stakeholders in the TB elimination efforts. 
The Director-General for Disease Prevention and Control at the Ministry of Health, Dr. Maxi Rein Rondonuwu, echoed this.
"The support from multiple stakeholders, from the central level to the regency and city levels, as well as from the community, must continue to be encouraged and accelerated to assist in these efforts," Dr. Rondonuwu stated in his address.
INATIME is an annual agenda of the Ministry of Health that collaborates with various universities as organizers and is held in different cities annually. This year's conference featured seven workshops on multiple topics that participants could attend in person and virtually.
Several experts from within and outside the country were scheduled to present the latest research, best practices, and innovative approaches to TB prevention, detection, and treatment. With their diverse expertise, this two-day event was expected to contribute to global efforts to end TB.
"The mission to eliminate TB is challenging but not impossible as long as we keep moving forward. Let's use this forum to exchange ideas and build relationships. Remember that each presentation can provide insights that bring us closer to our goal," said the Dean of the UGM Faculty of Medicine, Public Health, and Nursing, Dr. Yodi Mahendradhata.
Author: Gloria