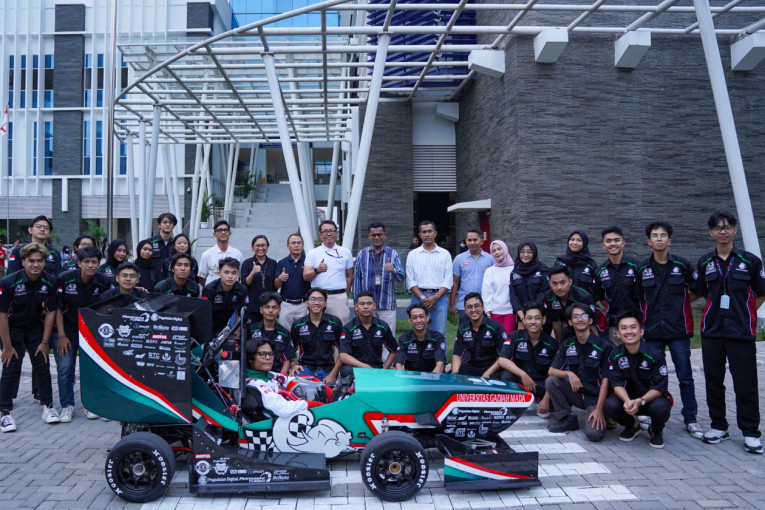 UGM gears up for the 2023 Formula SAE Italy held from July 12th to 16th with its newly-launched car, the 12th Gen Bimasakti, and primary sponsor, Pegadaian.
For the Formula SAE Italy, which will take place at the Riccardo Paletti Circuit, Bimasakti Pegadaian Racing Team focused on engine development and tire dimensions, using 16-inch tires instead of 18-inch ones used in the previous generation.
"All of this is done to enhance the car's performance. Eighty percent of the manufacturing is done domestically, while the rest follows the standards set in various competitions. Overall, the development of this car costs 650 million Indonesian Rupiah," said Yosh Alfaninata, the 12th-gen captain, during the Grand Launching of the Bimasakti Pegadaian Racing Team on Friday (16/6).
Alfaninata mentioned that the team invested much time and effort in producing this car. He hopes the vehicle will be a source of pride for the team and the Indonesian community, mainly due to its participation in Formula SAE Italy.
"We hope that with the hybrid technology used in this development, we can achieve various awards and titles and bring honor to Indonesia in the competitions we participate in," he said at the Faculty of Engineering.
Alfaninata and the team have set their sights on achieving 1st place in the Business Plan Presentation, being in the top 5 for Engineering Design and in the top 10 for Cost and Manufacturing, and other accomplishments available.
Bimasakti was the first Formula Student team from Indonesia to compete in Europe. It achieved impressive accomplishments at the 2022 Formula SAE Netherlands, including the Golden Fighter Award and 1st place in the Business Plan Presentation. 
"We express our heartfelt thanks to everyone who continuously supports and helps prepare what we need for Formula SAE Italy," he said.
The captain explained that the global transition to energy-efficient and low-emission innovations and advancements in motorsport technology had motivated the team to be pioneers in hybrid powertrain technology in Indonesian motorsports.
"We hope that Bimasakti can continue to inspire the younger generation in Indonesia to innovate and excel," he added.
Formula SAE Italy is an annual competition organized by SAE International and ATA (Associazione Tecnica dell'Autoveicolo) that admits participants from European countries such as Germany, the Netherlands, and Switzerland, and non-European countries like Egypt and Saudi Arabia.
The competition consists of two events: dynamic events related to the car's performance, including speed, strength, and skidpad, and static events, which include cost evaluation and business plans.
"In the business plan category, Bimasakti has successfully passed stage 2 and will proceed to stage 3 in Italy," he explained.
In addition to Pegadaian as the exclusive emerald sponsor, other sponsors supporting the team include Pertamina Patra Niaga as the gold sponsor, Bank Mandiri, ISTW, ORD Exhaust, Bintang Chemical Indonesia, Global Loyalty Indonesia, GE Racing, Motul Indonesia Energy, and Enkei Indonesia as silver sponsors. 
The team's bronze sponsors are Justus Kimiaraya, Aneka Tambang, Pertamina Gas, Bank Negara Indonesia, Swaragama FM, Swaragama Training Center, Teknowire Indonesia, Indonesia Power Bali PGU, Petrokimia Gresik, Poeser Indonesia, Karya Indah Motor Indonesia, Sentul International Circuit, J99XAR Indonesia Drift School, Ohlins Indonesia, Modiu Auto Detailing, Kenandega Konveksi, Radja TJ Studio, and Raxsa.co.
Deputy Business of Pegadaian Yogyakarta Area, Yohanis Wulang, stated that Pegadaian this year was the primary sponsor for Bimasakti. Besides financial support, Pegadaian's assistance is manifested through activities before and after the competition, including this grand launching event.
"Pegadaian has supported Bimasakti since long ago, actually. But, this year, we are the main sponsor for their participation in Italy," he said.
He hopes this support will boost the team's spirit to bring honor to the nation on the international stage. With this, Pegadaian also plays a role in developing hybrid vehicle prototypes that can contribute to future technological advancements.
"We hope that Pegadaian's support can benefit the entire academic community, especially in developing these hybrid vehicle prototypes," Yohanis Wulang expressed.
Secretary of the Directorate of Student Affairs, Hempri Suyatna, added that the longevity of the Bimasakti car up to the 12th generation proves the team's commitment and consistency to its development. 
Since 2010, the development of the Bimasakti car was only possible with the support of all parties, including alums and supervising lecturers.
"This is undoubtedly a good collaboration to support students' work and achievements. We are also grateful to Pegadaian for becoming our main sponsor this year, and the same gratitude also goes to all other sponsors," he added.
An appealing hand-painted livery marks the new appearance of the 12th Gen Bimasakti, a collaboration between Bintang Chemical Indonesia (Belkote Paints) and Radja TJ Studio. 
Bimasakti is the first Formula Student team to use a specially crafted hand-painted livery, which took about two months to complete. This hand-painted livery holds great significance in the history of the Bimasakti team.
For a better vehicle performance, four design principles are employed: lightweight through bodywork and aerodynamic devices made from carbon fiber-reinforced plastic (CFRPs) and wheel size reduction to 16 inches; fast due to engine performance improvement through well-designed, simulated, and validated stages; efficient, which is achieved through the use of adjustable fuel mapping; and ergonomic because the cockpit is adjusted specifically to the driver's posture. 
Author: Agung Nugroho
Photo: Donnie