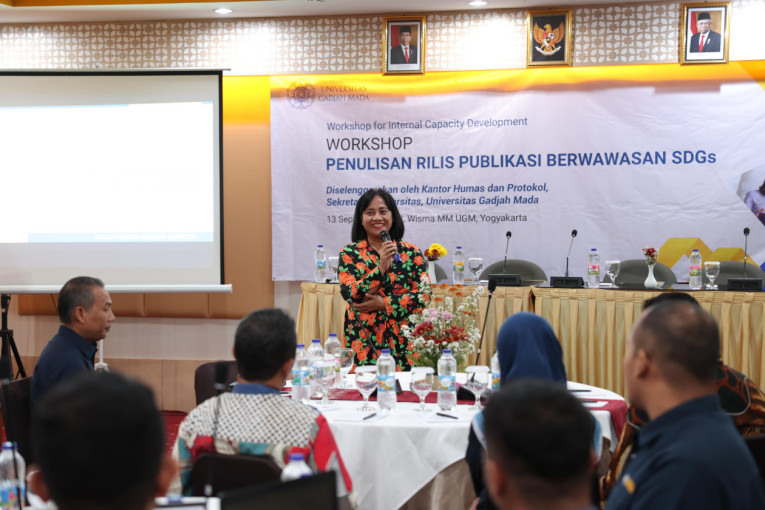 Universitas Gadjah Mada (UGM) organized a news release writing workshop focusing on Sustainable Development Goals for public relations staff within the university on Wednesday, September 13.
This activity, organized by the UGM Public Relations and Protocol Office, aims to increase understanding of the importance of SDGs publications in enhancing UGM's reputation on a global scale, particularly in the THE Impact Rankings. 
UGM also hopes to encourage more publications on SDG-related activities within its faculties, research centers, and units through this event.
As is known, Times Higher Education is an institution that assesses the performance of higher education institutions in implementing sustainable development programs (SDGs) in education, research, and community service.
The UGM Vice-Rector for Education and Teaching, Professor Wening Udasmoro, stated that UGM is committed to producing knowledge and providing excellent and innovative education, research, and community service that benefits society and the nation. 
This commitment is reflected in the university's 2022-2027 strategic plan.
Professor Udasmoro mentioned that UGM has implemented sustainable development programs through various aspects of higher education. 
UGM has even ranked among the top 50 universities in the world that contribute to the delivery of Sustainable Development Goals, especially in SDGs 1 (No Poverty), 7 (Affordable and Clean Energy), and 9 (Industry, Innovation, and Infrastructure).
"The SDGs' objectives have been implemented in all UGM's activities. For example, the UGM Community Service Program (KKN-PPM) helps uplift micro, small, and medium enterprises (MSMEs), part of SDGs' goal to eliminate poverty," said Professor Udasmoro in her opening address.
"We have implemented SDGs; we need to communicate it to the public more comprehensively."
Therefore, the vice-rector requested the support of the UGM academic community, including directorates, faculties, research centers, and units, to document and publicize their activities, including SDGs achievements.
"I request the assistance of public relations teams in faculties, research centers, and units at UGM to claim the activities that have been carried out, including those related to SDGs, to be packaged in the form of news," she said.
Professor Udasmoro added that by publishing all of education, research, and community service activities on the university's website and in mass media, UGM's ranking in the THE Impact Rankings has the potential to improve.
Over 100 participants from faculties, research centers, and units at UGM attended the SDGs-focused news release writing workshop. During the workshop, participants were trained to create news release content and take photos and videos with an SDG focus. 
The event featured Professor Indra Wijaya Kusuma, Head of the UGM Quality Assurance and University Reputation System, who presented on UGM's Targets and Strategic Programs to Enhance Reputation Through Rankings. 
Dr. Sentagi Sesotya Utami, the UGM Reputation Coordinator, discussed Writing Popular Scientific News to Support the Implementation of SDGs at UGM. 
Other topics included Tips and Techniques for Publishing News in Mass Media presented by Hari Firdaus, Head of Kompas in Yogyakarta and Central Java; Techniques and Guidelines for Capturing Photos for Public Relations by Andreas Fitri Atmoko, a photographer from ANTARA News Agency; Techniques and Guidelines for Capturing Short Video Content According to Journalistic Principles by Hendrawan, a senior correspondent at CNN Indonesia; and Techniques for Writing News Articles and Mapping Articles with SDGs Focus by Gusti Grehenson, a UGM reporter.
Author: Ika
Photographer: Firsto