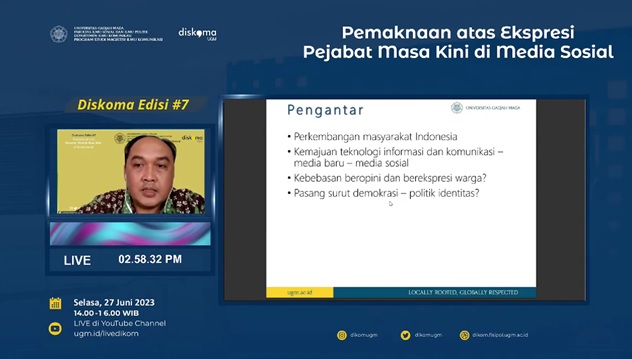 The realm of social media has sparked numerous interesting issues in the field of communication. As the 2024 political year approaches, the media is filled with party campaigns and public discussions about political figures. 
The UGM Department of Communication Science highlighted the freedom of expression in politics in the DISKOMA #7 series with the theme "Interpretation of the Expression of Contemporary Officials on Social Media" on Tuesday, June 27.
"The new media in the realm of interpersonal communication, known as social media, can encompass many other things. Through social media, we can do it all: socialize, participate in politics, replace broadcasting, and more," said Wismu Marta Adhiputra. 
Social media is no longer just a platform for expressing opinions; it has become a space for shaping opinions, spreading hate speech, and even political polarization.
Adhiputra opined that social media has significantly changed how political communication is conducted. In the past, political messages were openly conveyed through propaganda and campaigns, but now political agendas permeate various public information. Social media is also not exempt from spreading misinformation, such as fake science. 
"We know from research that Indonesia and Kazakhstan are the world's largest hotspots for fake science. There are so many hoaxes circulating and still believed by the public, even by well-known figures," said Wisnu.
In addition to the spread of hoaxes, one of the recent political issues discussed is the lifestyle and expression of officials on social media. Political communication observer Dr. Desi Dwi Prianti explained how the public's perception of officials' lifestyles is linked to the issue of corruption. 
"The recommendation that officials should lead a simple lifestyle is intriguing. In my opinion, they should flaunt their wealth as much as possible so that it can be determined whether they are corrupt or not. The real issue is whether their assets come from public funds or not. If many officials showcase their wealth, it can be traced," Dr. Prianti expressed.
Through this phenomenon, the public draws many conclusions about officials' lifestyles that affect their credibility. Hate speech is often used as a form of expression and public opinion. 
The Information and Electronic Transactions Act (UU ITE) has introduced various regulations regarding freedom of expression. According to Wisnu, UU ITE should not limit the public's ability to criticize public figures, as it would restrict freedom of speech. In fact, this is a form of democracy and public concern for the political situation in Indonesia.
Author: Tasya