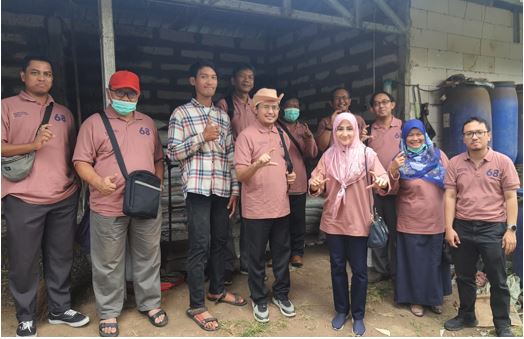 The UGM Community Service Team, based on the Utilization of Research Results and Application of Appropriate Technology, has developed an organic fertilizer product from goat manure with a 5-day fermentation. 
This innovation is driven by organic fertilizers becoming a popular solution in the modern agricultural world.
Aside from being environmentally friendly, organic fertilizers have significant potential in improving soil quality and agricultural yields. Conventional agriculture often employs chemical fertilizers that deplete soil fertility.
"As time goes by, this is what happens in conventional agriculture, and this is also one of the reasons why organic fertilizers are becoming more popular," said team leader Mokhammad Fajar Pradipta on Thursday (August 31).
Pradipta explained that the team conducted training on processing goat manure into organic fertilizer through fermentation at Berkat Ilahi Farm in Yogyakarta. 
During the training on Friday (August 25), he mentioned that the fermentation process of goat manure, which usually takes around two months using the EM4 starter, could be shortened to 5 days using the technology introduced by the team.
This organic fertilizer can improve soil structure, retain moisture, and provide essential nutrients without causing long-term negative impacts. 
Goat manure-based fertilizer ultimately contains significant nutrients like nitrogen, phosphorus, potassium, and beneficial microorganisms, making it a promising choice.
Pradipta emphasized that goat manure-based organic fertilizer through fermentation provides a sustainable solution for modern agriculture. 
Besides addressing the negative environmental and soil quality impacts of chemical fertilizers, this organic fertilizer also enhances agricultural productivity naturally.
"With proper implementation, fermentation-based organic fertilizers can be a crucial step toward more sustainable and environmentally friendly agriculture," he said.
The team has also developed another environmentally friendly innovation in the form of goat manure charcoal briquettes. This was designed to sustain the environment and reduce the negative impacts of climate change.
Pradipta explained that these briquettes implement the tri-dharma principle of higher education. 
In collaboration with the Physical Chemistry Laboratory of the UGM Faculty of Mathematics and Natural Sciences, the team conducted a community empowerment activity titled "Goat Manure-Based Charcoal Briquettes" at CV. Berkat Ilahi Farm in Yogyakarta.
He explained that goat manure has untapped potential as a source of organic waste. Through the appropriate processing, goat manure can be converted into raw materials for producing charcoal briquettes.
He noted that this process reduces potential environmental pollution arising from waste management and curbs deforestation for firewood. Once again, innovation is the key, he said.
"I believe goat manure-based charcoal briquettes are an interesting innovation. Utilizing organic waste and reducing the use of wood as a charcoal source can be seen as an alternative solution toward environmentally friendly charcoal production," he explained.
Author: Agung Nugroho