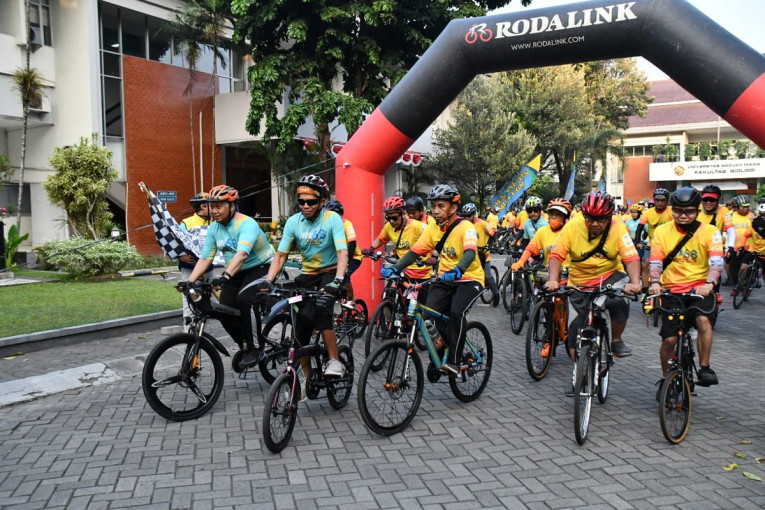 To celebrate its 68th anniversary, the UGM Faculty of Mathematics and Natural Sciences organized a series of events with its lecturers and alums on Saturday, September 16. 
The morning started with the "FMIPA Fun Bike," a group cycling event covering 40-100 km distances involving various communities. This event also served as an opportunity to strengthen relationships and introduce the faculty to the community.
"We are delighted that we could gather for a group bike ride this morning. Thanks to the lecturers, alums, and various communities that have participated. I hope this event is not just a gathering but also reminds us of the importance of health," said the faculty's dean, Professor Kuwat Triyana. 
A total of 208 participants joined the FMIPA Fun Bike, divided into two categories: the MIPA Fun Ride, covering 40 km, and the Gran Fondo Ride, covering 100 km. 
Moreover, the group cycling event was also attended by several communities, such as Jogja Punya Road Bike, Jogja Pit Ringkes, Honda Cycling Club, and participants from various backgrounds.
Cycling was chosen for this activity to promote a culture of physical activity in society, which is essential for physical fitness. In this era, job demands and lifestyle often leave people little time for exercise. 
For some lecturers and academic staff at the faculty, this event allowed them to take a break from their daily routines and rejuvenate their spirits through social interaction. There were door prizes and attractive rewards for participants who completed the cycling routes, which added to the enthusiasm.
The excitement continued into the evening, culminating in the "Malam Kangen FMIPA UGM 2023." The faculty's students attended to experience the euphoria of the 68th-anniversary celebration. 
"I wish the UGM Faculty of Mathematics and Natural Sciences a happy 68th anniversary. I also want to express my heartfelt gratitude because the faculty has supported students, especially us, from the Student Executive Board (BEM)," said Nicholas Gilang, Chair of the UGM Student Executive Board.
"This event is held once a year, and hopefully, it can be a place to strengthen the relationship between students and lecturers."
A series of student and alumni presentations enlivened the evening performance. Various dazzling performances were the highlight of the event that night. 
In addition, a TED Talk discussion featuring Professor Jazi Eko Istiyanto, F. Heru Sukrisna, and Ayu Ardelia Putri was also included. The TED Talk session on stage aimed to provide students with exciting and unique learning experiences. 
The 68th-anniversary celebration of the UGM Faculty of Mathematics and Natural Sciences was a successful and vibrant collaboration between the academic community, communities, and the public. 
The hope is that this synergy will continue as the foundation for UGM academics' contributions to society.
Author: Tasya