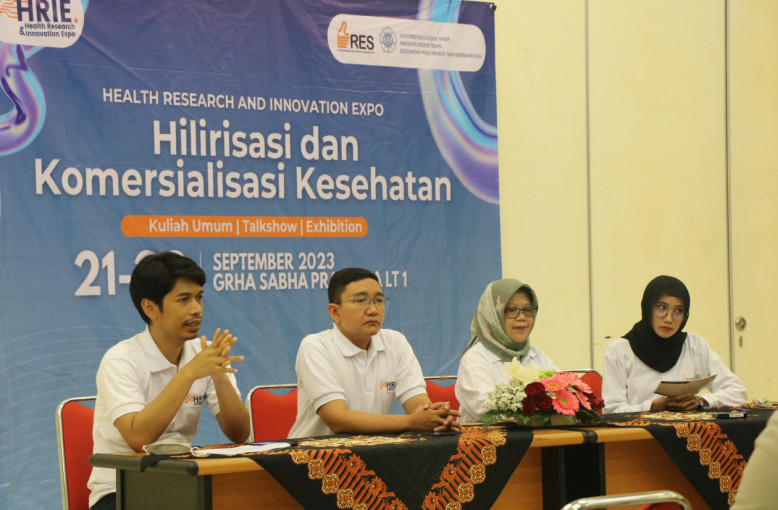 The Vice Dean for Research and Development of the UGM Faculty of Medicine, Public Health, and Nursing, Dr. Lina Choridah, MD, stated that there is a gap regarding healthcare products in society today. 
The gap between academics and industry often leads to innovative ideas from professors or students stopping at the prototype stage.
"Many stop at the prototype stage, so once they finish, they stop. For example, they write journals, but they face many obstacles in terms of greater usefulness," Dr. Choridah said on Thursday (September 21) during the 2023 Health Research & Innovation Expo (HRIE).
She emphasized that developing medical instrumentation is crucial in medicine to address health issues, including early screening for disease prevention, accurate diagnosis, and appropriate treatment. 
These efforts are aimed at disease prevention, control, and better healthcare services to improve the quality of public health.
Innovation is essential for a nation as it makes products and services more competitive in the global market, reduces dependence on imports, improves the efficiency of public services, and enhances social activities. 
Unfortunately, Indonesia's innovation ranking lags behind other ASEAN-6 countries and relatively advanced ASEAN member states.
"We hope that with HRIE, we can bridge the gap between both sides. Whether it's downstream, where the industry can facilitate ideas from professors with prototypes, or vice versa, where the industry often produces products but their validity has not been tested, and the faculty will bridge that gap," she said.
The UGM Faculty of Medicine, Public Health, and Nursing organizes the Health Research & Innovation Expo (HRIE) to improve research capacity and collaboration in developing research ideas and their application. 
This time, the event carried the theme "Health Downstream and Commercialization," featuring the Minister of Tourism and Creative Economy, Sandiaga Salahuddin Uno, who led discussions on Wellness and Health Tourism.
HRIE 2023, held over two days from September 21-22, 2023, at Grha Sabha Pramana, was conducted in a hybrid format. Visitors might attend in person or follow the expo activities live on the @leresugm YouTube channel.
Dr. Hanggoro Tri Rinonce, MD, the head of the faculty's Learning Resources and Innovation Development (LERES) Unit, expressed that the catalog of innovations by lecturers and students at LERES is extensive but often stops at the prototype stage.
Some of these innovative works are highly needed by the community, one of which is called "Bonegraft." Made from eggshell-based "Osteogrin," it is used to fill defects in bones to aid the healing process. This Bonegraft contains pure calcium obtained from chicken eggshells.
"The problem is they face difficulties selling it because of their status as lecturers and insufficient resources for mass production," Dr. Rinonce said.
"For example, if there's an order of 100, it would be overwhelming because they also have to teach. Therefore, collaboration between institutions and industry is needed."
Dr. Indra Tri Mahayana, the Chair of HRIE, stated that the Health Research & Innovation Expo is one of the activities under LERES. 
The event aims to gather research ideas and innovations related to medical products within the academic environment of the UGM Faculty of Medicine, Public Health, and Nursing, whether for lecturers, researchers, or students. 
It provides a research database and innovative products developed and initiates downstream products related to manikins, teaching media, and medical tools and instrumentation.
"HRIE can be a platform for academic members, including lecturers, researchers, and students, to obtain information about developing health product innovations," Dr. Mahayana said.
"It can improve researchers' knowledge and skills to carry out downstream and commercialize health product innovations and open up collaboration opportunities in the industry."
Dr. Mahayana acknowledged that the organization of HRIE this year differs from previous years. HRIE 2023 conducts talk shows, research poster presentations, and innovation expos and holds public lectures with experts.
"This event involves several health influencers discussing health commercialization using social media platforms," he added.
"Several departments, work units, and research centers are also disseminating research results through exhibitions of innovative products and posters of scientific publications from 2022."
Author: Agung Nugroho