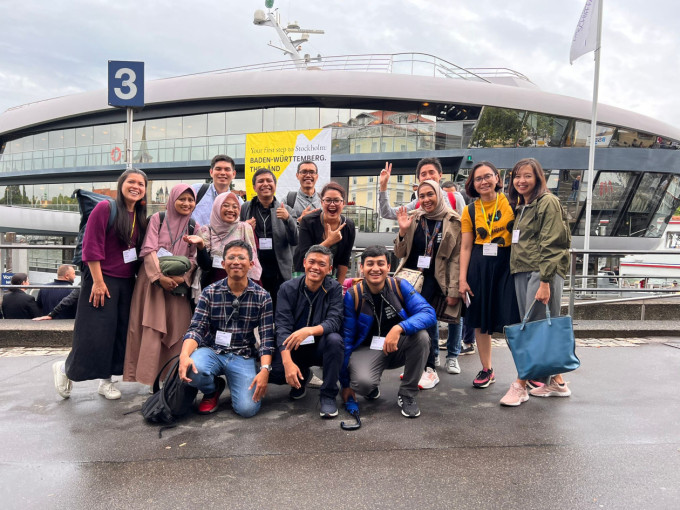 A delegation of scholars from the UGM Faculty of Medicine, Public Health, and Nursing (FKKMK) attended the 72nd Lindau Nobel Laureate Meeting in Lindau, Germany, from June 25th to 30th, 2023.
The delegates were Dr. Antonia Morita Saktiawati, MD, from the Department of Internal Medicine; Agnes Rosarina Prita Sari, MD, from the Department of Dermatology and Venereology; Dr. Dhite Bayu Nugroho, MD, from the Department of Internal Medicine; alums from the class of 2011 and 2012, Nova Yuli Prasetyo Budi, MD, and Alvin Santoso Kalim, MD; and medical student from the class of 2017 Azzahra Asysyifa, MD.
The Lindau Nobel Laureate Meeting is an annual scientific conference held in Lindau, Bavaria, Germany, since 1951. This event aims to bring together Nobel laureates and young scientists to encourage scientific exchange between different generations, cultures, and disciplines. 
The meeting is unique because 30 out of 65 Nobel laureates attend and share their experiences as researchers through direct discussions with young scientists each year.
Vice Dean for Research and Development, Dr. Lina Choridah, MD, expressed appreciation for the participation of FKKMK in the Lindau Nobel Laureate Meeting. 
"FKKMK fully supports research conducted by faculty members and students. The faculty has a Translational Research Unit that fosters young researchers and is supervised by senior researchers. This unit serves as a platform to assist and support research activities," said Dr. Choridah, who has a medical specialty in radiology.
Dr. Antonia Morita Saktiawati, MD, one of the selected delegates, was chosen to present her research on diagnosing tuberculosis through an electronic nose device. 
"The electronic nose is a tool that can detect various conditions or infections through smell to diagnose tuberculosis," she explained.
According to Dr. Choridah, participating in international events can enhance the faculty and university's reputation and recognition. 
"The selection of these six delegates provides an excellent opportunity to promote and develop human resources within the faculty. With the increasing competence of human resources at the faculty, the name of UGM will be increasingly recognized internationally," she concluded.
Author: Nirwana Pradana Maharani/Gusti Grehenson