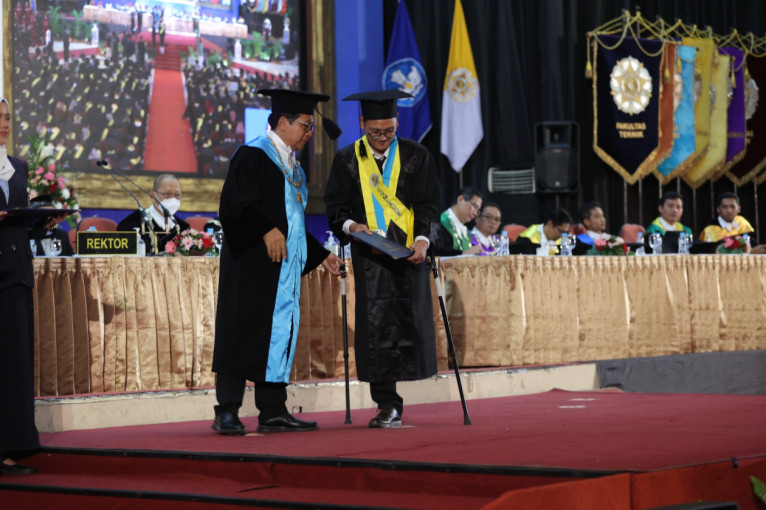 The Rector of Universitas Gadjah Mada (UGM) conferred degrees to 1,541 graduates from the bachelor's, applied bachelor's, and associate degree diploma programs, including ten foreign nationals, on Wednesday (August 23).
The group includes 1,190 bachelor's graduates, 347 applied bachelor's graduates, one associate degree graduate, and three graduates from previous ceremony periods.
In her welcoming speech, the Rector of UGM, Professor Ova Emilia, MD, congratulated the graduates for their remarkable achievements and officially welcomed them as part of the large UGM alums family. 
"Uphold the university's reputation and your love for your alma mater wherever you go," said the rector.
Rector Ova Emilia noted that the number of UGM alums has exceeded 375,000, spread across various regions and internationally. 
"We should be proud of our alumni who have served in frontier, outermost, and underdeveloped areas," she added.
On this occasion, the rector also mentioned the name of President Joko Widodo as an alumnus of the Faculty of Forestry, who is now leading the Republic of Indonesia for two consecutive terms. 
"We should also take pride in our alumnus, who is now the number one leader in the country, President Joko Widodo. He is one of the alumni of the Faculty of Forestry," she explained.
According to the rector, Joko Widodo is a successful graduate who has become a national leader. She also hoped that UGM would continue producing future leaders to drive Indonesia's development. 
"In the future, we want to see more and more future leaders emerging from this campus. Because our republic needs the contribution of UGM alumni with forward-looking visions and perspectives," she stated.
The rector also touched on the significance of the 78th anniversary of Indonesia's independence, highlighting the concept of full sovereignty for a country to manage and drive the nation's development. 
Professor Emilia noted that the government strives to add value to our mineral products like nickel and bauxite through downstream activities. Furthermore, copper and tin exports are restricted until they undergo processing within the country. 
"All of these efforts are aimed at preventing the sale of raw mineral products and other natural resources, ensuring that we gain added value," she emphasized.
The rector also cited the president's national address during the Independence Day celebration, which mentioned the goal of achieving Indonesia's 2045 Vision (Golden Indonesia 2045). 
By 2045, Indonesia aims to escape the middle-income trap and attain the status of a high-income country. 
"This opportunity is within our reach if we can unite to maintain our values, sharpen our conscience, transform ourselves, move forward, and seize opportunities with strategic steps on every occasion," she said.
So far, Indonesia has gained international trust, recognized for its credibility and sovereignty. Indonesia has successfully led the G-20 Presidency and hosted the event last year. Moreover, in 2023, Indonesia held the chairmanship of ASEAN. 
"We can take pride in the fact that FIFA has designated Indonesia to host the FIFA U-17 World Cup from November to December this year," the rector remarked.
According to her, the spirit of independence this year should encourage all of us to contribute to the nation's development, focusing on producing a skilled workforce.
She advised the new graduates to become educated individuals who will be at the forefront of the nation's strength, helping to create a better future. 
"We believe that the knowledge and competencies you have now can serve as a force for the transformation of this nation," she concluded.
Among the bachelor's graduates, 466 received scholarships through the Kartu Indonesia Pintar-Kuliah (KIP-K) program, and 95 were from frontier, outermost, and underdeveloped areas (3T) in Indonesia.
The average study period for bachelor's graduates was four years; the average age was 22 years, six months, and 15 days, and the average Cumulative Grade Point Average (GPA) was 3.57. 
The graduates who received honors numbered 1,921 (68.75%), very satisfactory 783 (28.02%), satisfactory 47 (1.68%), and without a predicate 43 (1.54%).
The highest GPA among this batch was achieved by Syallom Gita Maharani from the Biology Program, Faculty of Biology, with a GPA of 3.99, graduating with honors on August 23, 2023. 
For applied bachelor's graduates, the average study period was four years. Yusifa Oktria Sageta achieved the shortest study period from Internet Engineering Technology, Vocational College, who completed the program in 3 years, ten months, and eight days.
The average age for applied bachelor's graduates was 22 years, six months, and 16 days. The youngest graduate was Muhammad Arief Wibowo from Electrical Engineering Technology, Vocational College, who was 20 years, six months, and 30 days old. 
The average Cumulative Grade Point Average (GPA) for applied bachelor's graduates was 3.68. One hundred eighty-nine graduates (54.47%) graduated with honors, and 158 graduates (45.53%) were very satisfactory. The highest GPA was achieved by Risma Mariana Gultom from the Public Sector Accounting Study Program, Vocational College, with a GPA of 3.99.
Author: Gusti Grehenson
Photographer: Firsto