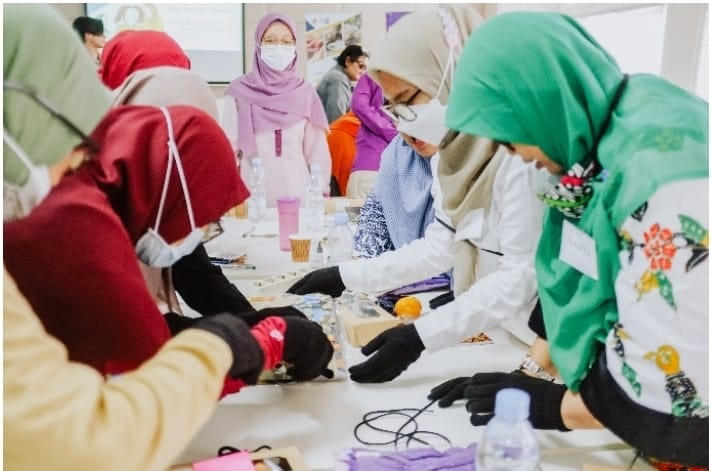 Caring for people with dementia (PWD) often leads to physical and mental exhaustion due to the emergence of challenging behaviors in PWD. 
Training for caregivers of PWD has been proven to increase knowledge and attitudes toward PWD. However, to date, there has been no dementia training program developed based on research on the needs of PWD caregivers.
Recognizing this situation, the Department of Mental Health and Community Nursing at the UGM Faculty of Medicine, Public Health, and Nursing has organized training for caregivers of PWD based on their needs.
This training is part of the research project "Development of KePOD (Skills for Caring for People with Dementia) Training Program for Informal Caregivers of People with Dementia (PWD)" by Dr. Sri Mulyani.
The KePOD training occurred on August 12-13, 2023, at the UGM Faculty of Medicine, Public Health, and Nursing. This activity was a collaboration between the Department of Mental Health and Community Nursing and Alzheimer's Indonesia Chapter Yogyakarta.
The speakers for this event included Dr. Sri Mulyani, Dr. Amelia Nur Vidyanti, MD, and psychologist Retno Prasetyo Ningrum. 
They covered topics such as understanding dementia, caring for PWD, challenging behaviors in PWD, and communication with PWD. The training was attended by 32 caregivers of PWD, including family members, nurses, and caregivers who assist PWD at home.
The training received various positive responses from the participants. Nabil, for example, felt the benefits of the activity. 
According to him, the training supports PWD caregivers so they no longer struggle to care for PWD and provides a platform for sharing experiences in PWD care. The content presented was also highly relevant to what caregivers experience and applicable to their daily lives.
The training was conducted to provide caregivers with an understanding of how to care for PWD, helping them realize that what PWD feel and experience is not due to their will but rather a result of underlying dementia. 
Practical exercises and dementia experience learning games enhanced participants' understanding during the training. Thus, the activity is expected to improve caregivers' knowledge, attitudes, and self-confidence in caring for PWD, ultimately enhancing the quality of life for both PWD and caregivers.
Author: Ika
Photo: UGM Faculty of Medicine, Public Health, and Nursing