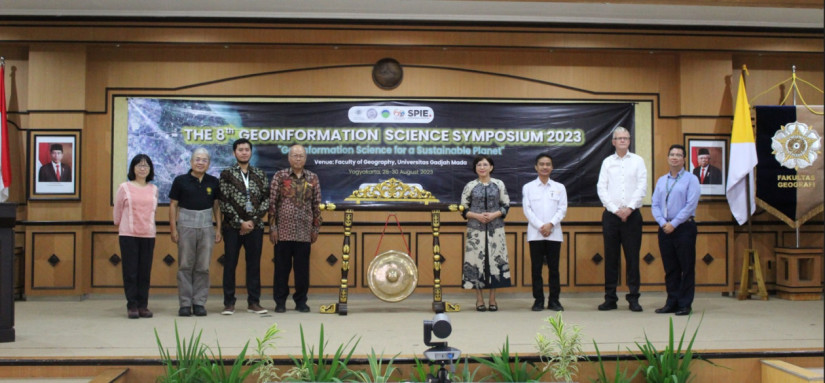 No fewer than 150 geoinformation experts worldwide gathered at the 8th Geoinformation Science Symposium 2023, held at the Faculty of Geography, Universitas Gadjah Mada (UGM).
Taking place over three days from August 28 to 30, the event was attended by participants from the Philippines, India, Indonesia, Sweden, Japan, Taiwan, Australia, the Netherlands, and South Korea. They presented and discussed research findings related to geoinformation.
The symposium was chaired by Professor Pramaditya Wicaksono, who noted that this symposium is a biennial event organized through the collaboration between the Department of Geographic Information Science at the UGM Faculty of Geography and the Indonesian Geographical Society (IGI).
"Hundreds of experts from various parts of the world attend this symposium. It reflects global synergy that drives advancements in geoinformation science," he said on Thursday, September 7.
The symposium featured speakers such as Professor Menno-Jan Krak (University of Twente, the Netherlands), Associate Professor Chris Roelfsema (The University of Queensland, Australia), Dr. Ariel C. Blanco (Philippine Space Agency – PhilSA), Professor Muhammad Kamal (UGM, Indonesia), Dr. Yuichi Sakai (Utsunomiya University, Japan), and Dr. Park Hansan (MTCRC, South Korea). 
The symposium was opened by the Rector of UGM, Professor Ova Emilia, and received greetings from the Vice President of IGI, Professor M. Baiquni, and the Dean of the UGM Faculty of Geography, Dr. Danang Sri Hadmoko.
Professor Wicaksono explained that the symposium received a positive response from the global geoinformation community. 
There were at least 122 abstracts submitted, and 85 papers were selected for presentation, covering various topics in geoinformation science. The diversity of ideas and perspectives in the research collection led to lively discussions, and many innovations were brought forth.
"This symposium is expected to catalyze the exchange of ideas and interdisciplinary partnerships and provide new insights into geoinformation," he said.
The symposium chair mentioned that Geographic Information System (GIS) and mapping competitions for students were held on August 29-30, 2023, as part of the symposium. 
This year's symposium was also held with the 12th-anniversary celebration of the Faculty of Geography, signifying years of progress in geographical knowledge and geospatial advancements.
Addressing the changing landscape of global events, Professor Wicaksono stated that the symposium adopted a hybrid format, allowing both physical and virtual participation. 
This approach aligns with UGM's commitment to inclusion and breaking down geographical boundaries in knowledge exchange.
Author: Ika