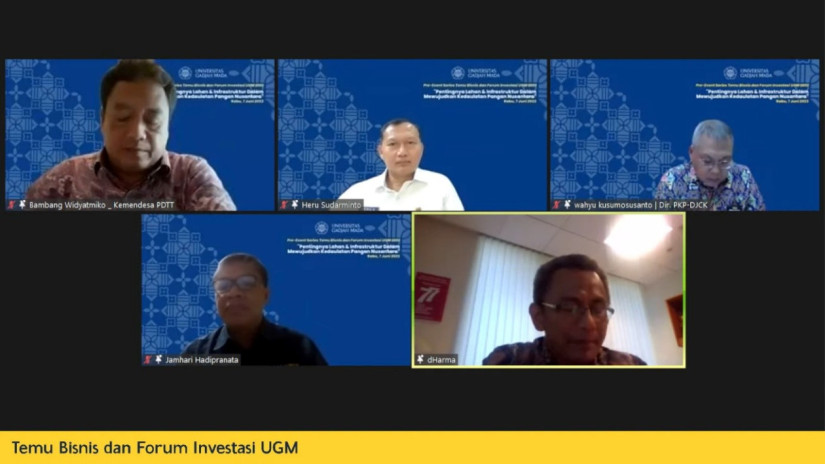 Universitas Gadjah Mada held a webinar stressing the importance of land and infrastructure for food sovereignty in the lead-up to the upcoming Business Summit and Investment Forum.
This discussion forum invited academics and stakeholders from the government, industry, and practitioners in the agricultural sector. They gathered to talk about the latest agricultural developments and trends, especially in land and infrastructure.
"The paradigm of agricultural development must change to attract the younger generation. Agriculture must be fun and prosperous. With this paradigm shift, the country's food sovereignty will soon come true," said UGM Vice-Rector for Research, Business Development, and Cooperation, Ignatius Susatyo Wijoyo.
In this webinar, the experts explore barriers to food availability, which are closely linked to national policies in agriculture. A comprehensive arrangement is needed by involving various interrelated sectors to avoid overlap, which can result in one sector sacrificing for the needs of another.
The webinar presented three speakers: Director of Planning for the Realization of Transmigration Areas of the Ministry of Villages, Bambang Widyatmiko; Secretary of Baranahan and Head of PCLS of the Ministry of Defense, Brigadier General Heru Sudarminto; and Director of Settlement Area Development of the Directorate General of Cipta Karya of the Ministry of Public Works and Public Housing, Wahyu Kusumosusanto.
Bambang Widyatmiko discussed the role of transmigration in realizing food sovereignty. Since it was first launched in 1950, according to him, transmigration has shifted from being oriented toward population movements to building isolated areas to growing peripheral rural areas into a competitive development system. One of the vital roles of transmigration is to avoid food crises. 
"Indonesia is one of the few countries with potential for food development through collaborative regional development. The transmigration areas are one example because they are managed by people ready to develop the land," he explained. 
On the same occasion, Heru Sudarminto explained the Ministry of Defense's National Food Estate program. Cassava was chosen as a strategic commodity for national defense because it can be processed into various strategic products. In addition, cassava is suitable for cultivation in Indonesia, including on marginal lands.
"From a health viewpoint, cassava is also healthy. If we compare ourselves with surrounding countries, we still have an advantage of producing 23 tons per hectare," the Brigadier General explained.
Author: Gloria