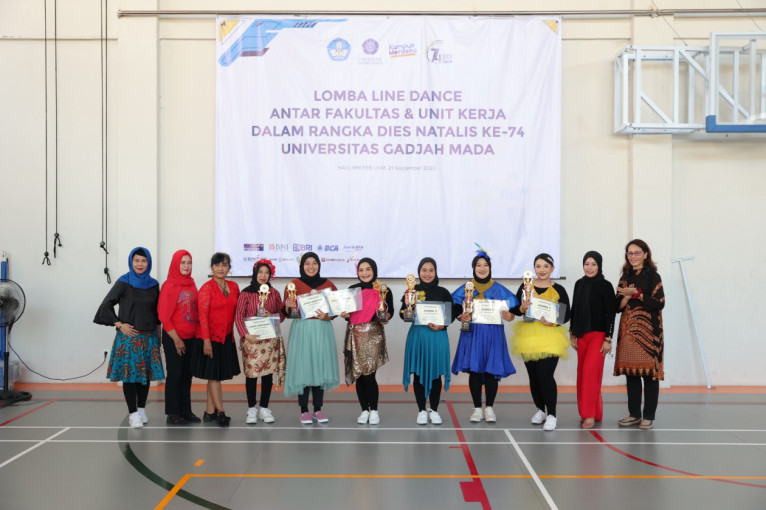 The 74th Anniversary Committee of UGM held a line dance competition among the directorates, units, and faculties within Universitas Gadjah Mada. 
The competition took place at the sports building of the Master of Management Program, Faculty of Economics and Business, UGM, on Thursday, September 21. 
The line dance competition was divided into beginner and intermediate levels. 13 groups participated in the line dance competition, primarily representing faculties and directorates. 
Some of these included the Faculty of Mathematics and Natural Sciences; the University Secretariat; the Faculty of Medicine, Public Health, and Nursing; the Faculty of Biology; the Faculty of Animal Science; the Faculty of Agriculture; the Faculty of Forestry; the Faculty of Agricultural Technology; the Faculty of Philosophy; the Faculty of Engineering; the Research Directorate; and the Planning Directorate.
The competition chair, Nurma Diani, explained that the line dance competition aimed to popularize this dance-style exercise among the UGM academic community while fostering camaraderie among units to strengthen unity. 
"We want UGM's residents to become healthier with this exercise because it can prevent forgetfulness, minimize the risk of injury, and can be participated in by various age groups," Diani stated on Friday, September 22.
During the one-day competition, Diani mentioned that each group of 5-10 participants took turns performing. The jury team then evaluated the rhythm of the steps, creativity, synchronization, and the overall performance of each participating group.
Diani noted that the line dance competition was predominantly participated in by women. The Directorate of Human Resources Management emerged as the first-place winner in the beginner category. 
Following that, the Faculty of Medicine, Public Health, and Nursing and the Research Directorate secured the second and third places. Another group from the Faculty of Medicine, Public Health, and Nursing claimed the top spot in the intermediate category. 
"The winners received trophies and development funds as prizes," she added.
As is known, line dance is a form of exercise that combines choreographed dance movements with dance steps such as cha-cha and rumba. 
This sport serves as a means of socializing while maintaining mental and physical health, improving body balance, and promoting overall well-being.
Author: Gusti Grehenson
Photographer: Firsto