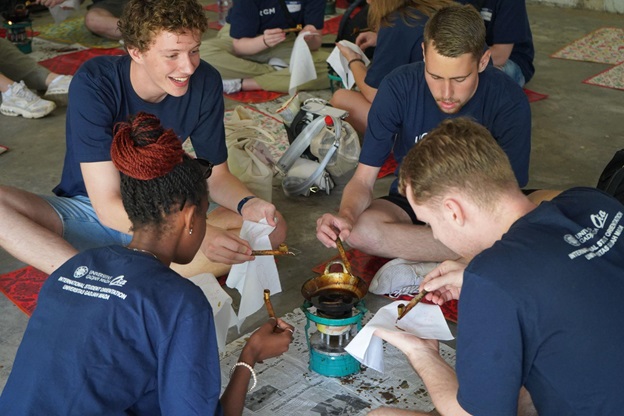 On Saturday, August 19, UGM hosted the International Student Excursion (ISE) in Pentingsari Tourist Village, Sleman, Yogyakarta, to familiarize international students currently enrolled in the university with Indonesian culture.
This program taught 102 international students from 18 countries about rice farming, batik making, and traditional gamelan music.
The students came from the United States, Canada, Australia, the Netherlands, South Korea, the United Kingdom, Japan, Germany, Norway, Austria, Spain, Italy, Peru, Malaysia, the Philippines, Pakistan, Kenya, and Uganda. 
This program is a collaboration between the UGM Office of International Affairs, the UGM Buddy Club, and the Pentingsari Tourist Village.
During the event, the international students were also taken on an exploration of the slopes of Mount Merapi using open jeeps to provide them with a closer understanding of Mount Merapi and its supporting aspects, such as the local community's way of life and wisdom, including how they cope with potential disasters from Mount Merapi's volcanic activities.
US student Elsa Maria Schroeder, who is enrolled in the UGM Faculty of Cultural Sciences (FIB), remarked she finds learning about Indonesian culture through this program fascinating and intriguing.
"It's amusing and thrilling. Through this activity, I was able to bond with other students. I also had the best introduction to Indonesian culture," she said.
Head of the International Cooperation Sub-Directorate, Dr. Alfatika Aunuriella Dini, explained that the ISE is specifically designed to promote community empowerment in the Pentingsari Tourist Village and to highlight the importance of and strengthen the local economy.
The program was created with ecotourism in mind, with the goal of providing a special interest travel package that lets visitors take in the beauty of the outdoors without compromising sustainability. 
Author: Ika
Photo: UGM Sub-Directorate of International Cooperation